by Noella Noelophile®
As the rest of us recover from all the turkey and trimmings, the city of Seal Beach is bustling.
"The (week of the) tree lighting to the parade is when a lot of the work gets pulled together," said Seal Beach Christmas Parade vice-chair and public relations coordinator Seth Eaker.  "Supplemental services, everything, starts rolling into town.  The equipment comes in on the third.  The parade's on the fifth, and we have our free breakfast with Santa, where we give the (parade) awards, on the thirteenth."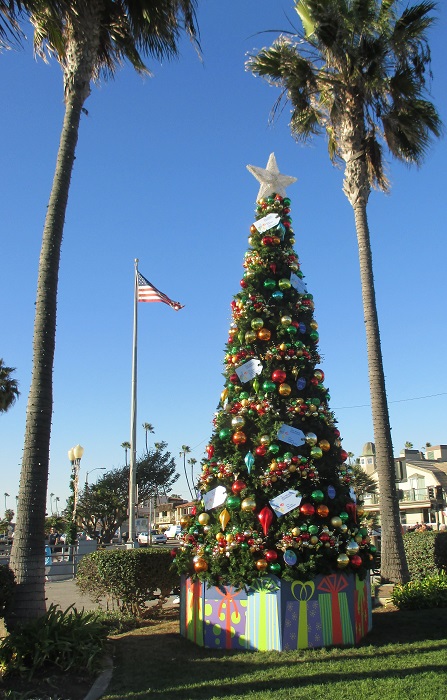 Seal Beach's Christmas tree lighting, tomorrow at dusk, will be a grand finale to Small Business Saturday.  And then–it's time for final-week preparations and a countdown to December fifth.
That's the date of the thirty-sixth annual Seal Beach Christmas Parade, happening one week from today.  More than fifteen thousand spectators are anticipated for Seal Beach's annual Christmas gift to the community, which is both a free celebration to which everyone's invited, and one that's been twelve months in the making.
"We start preparing for the next year's parade on Monday (following this year's)," Seth explained.  "It's a year of planning."  The parade is run by three all-volunteer executive committees, who work throughout the year.
Seal Beach's traditional parade, co-produced by the City of Seal Beach and the Seal Beach Lions Club, has blossomed since its 1979 beginnings.  Back then, Seth says, the parade had approximately twenty entries.  "We used to loop the parade around twice because it was so small.  But really, in the last ten years, it's just become enormous.  It's humbling to think we have almost as many people in the parade, as in the Rose Parade®."
So, how many parade participants are we talking about?  Approximately 3,800.  This year's Seal Beach Christmas Parade will have approximately 110 entries–and many of those are celebrating a Christmas tradition.  "Out of the entrants, eighty percent are returning," Seth said.  "We have a really high return rate for groups."
Apparently, those groups put their names in early.  According to the Seal Beach Lions Club's website, parade registration for this year began on August 1.  By late September, Seth said, most of the parade spots had already been filled.
Seth, who first started working with the Seal Beach Christmas Parade as an announcer in 2007, says Parade Day, December 5, will be full of activity.  "Starting at 7 o'clock in the morning, it's pretty much all hands on deck," he said.
And those "hands" amount to a full community effort.
"Southland Credit Union is our title sponsor, along with Run Seal Beach, which has provided all the lighting for the parade," said Seth.  "The parade represents what's best about Seal Beach: city, family, community and volunteerism.  (And) if anyone is the genius behind the Christmas parade, it's (parade chair) Scott Newton."
In fact, Scott Newton originally recruited Seth as a parade announcer, about six years ago.  Since then, Seth says, his own role has gradually evolved into additional work in the logistics area.  On Parade Day, his responsibilities as vice-chair will have him in constant motion: checking all the PA systems, confirming that the lights work, making sure all the parade announcers get their scripts and coordinating with police and fire officials for street closures.  Then he too will become an announcer at Ocean and Main.
This year's parade, themed "Seal Beach Winter Wonderland", will offer participant prizes in five categories.  According to the Seal Beach Lions Club's website, these categories include "Most Festive", "Most Humorous", "Judges' Choice", "People's Choice", and "Best in Show".  Parade judges will be scattered throughout the crowd at various locations.
So, what might you see in the Seal Beach Christmas Parade?  As previous participants return, marchers should include Scout troops, local schools, a lion (of course!), and plenty of bands.
"We actually sponsor bands to come and play," Seth said.  "We usually have eight to a dozen.  We start off with our hometown favorite, Los Alamitos High School Marching Band, and we have bands from all over Southern California."
Then, when the final marchers have gone by, parade organizers have just about forty-eight hours to bask in the (Christmas) glow of a job well done.  And then…
Monday, December 8, it'll be time for the debriefing–and to look ahead to the next one!  The six-person executive team behind the Seal Beach Christmas Parade discusses what worked, and what could be done differently for the following year.  "We begin looking at tapes and video, and getting feedback from participants and volunteers," Seth explained.
As with any community effort, though, more hands can always be used.  "The parade requires hundreds of volunteers," he said.  The Lions would always welcome any additional support, whether it's to volunteer or contribute."  Volunteer information is available on the "Christmas Parade" page of the Lions Club's website, at http://www.sealbeachlions.com.
Seth's own contribution to the Seal Beach Christmas Parade–and his community–are evident.  A local small-business owner with several awards for entrepreneurship, he has been named the 2014 Seal Beach Citizen of the Year in Cypress College's Americana Awards.  And in 2012, he was both Seal Beach Businessman of the Year, and chosen Grand Marshal of the 2012 Seal Beach Christmas Parade.
However, these honors were just a prelude to a Christmas parade that became a stand-out Christmas memory.
"I happened to get married last year," he said.  "Riding in the (2013) parade was one of the most profoundly joyful and humbling experiences I think I've ever had.  My neighbors, my friends, my husband, and the fact that I was privileged to be married that morning.  It was like a fairy tale.  It was magical."
The 36th annual Seal Beach Christmas Parade takes place Friday evening, December 5, at 7:00.  The parade route starts at Ocean Avenue, down Main Street to PCH.  Admission's free, but plan on arriving early to find parking and get a good viewing spot.
And if you'd like to help the Seal Beach Lions Club as they create their 2015 Seal Beach Christmas Parade?  You can find out more about volunteering by emailing paradechairman@sealbeachlions.com.