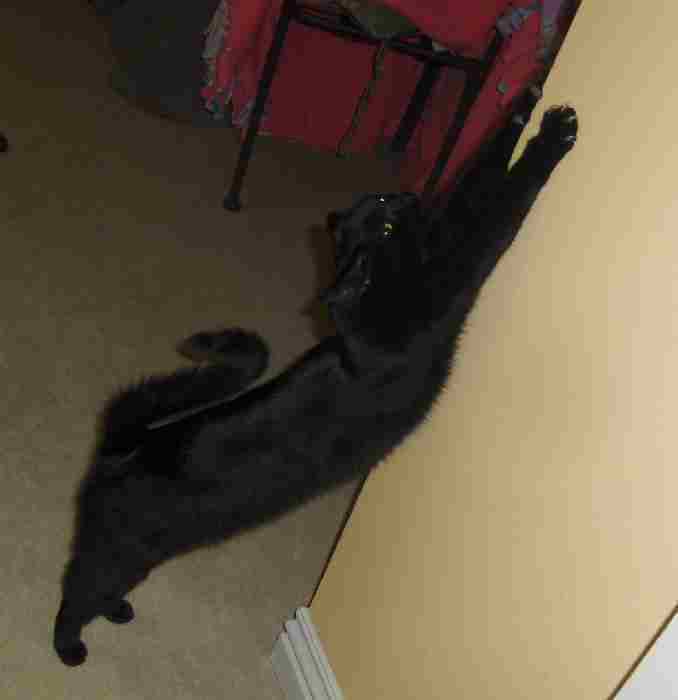 by Noella Noelophile™
Believe this or not–some people still think black cats bring bad luck.  Or, that they're boring.
Our little one, Jet, comments: "Mieuw."
Loosely translated, I think she's saying, "They're crazy."
After living with her for more than two years, we can only conclude that we were very lucky to walk by her cage, in the local shelter, at the point when we were ready to adopt another cat.   We've been in love ever since.
Jet has a tendency to let everyone know who's in charge.  She won't drink milk if it's in a bowl on the floor.  However, just place your mug on the floor, and–
Lick, lick, lick.   We think, perhaps, the whole "bowl" thing is just too easy for her liking.  And should you happen to have a bowl of cereal with milk, you now have a (purring) friend.)  (So far, she seems to prefer Cheerios.)
Jet is a very loving cat.  She'll come to you and hump her back, purring.  You do want to pet that glossy black fur and hear her purr, now, don't you?  She knew that–and anticipated your wishes.  She wouldn't want you to miss out!
She's also our little adventuress.  Were she human, she'd probably be into rock climbing, skydiving and snowboarding.  As an indoor feline, though, she prefers to shinny up the floor-to-ceiling drapes.  A few mieuws follow (she does need an audience, after all!), and usually one of us goes running for a sofa cushion.  We're perfectly aware that the little rascal will probably land on her feet safely–but having her jump onto a safe cushion makes us feel better.  She seems aware of that fact, and graciously obliges.
She also is thoughtful in terms of heralding her arrival.  Not for her, the sudden, startling jump on the bed.  Instead, she offers a prelude of a series of trills and soft mieuws.   Until we had to take her to the vet for her recent checkup, we weren't sure a standard "meow" was part of her repertoire.   We've concluded that "Trill, mieuw!" is her normal greeting of choice.
About the only "unlucky" thing about having a black kitty in the house?  Well, not really unlucky.  But be sure to look closely at a black chair before you sit down on it–and should you reach for your black "socks", only to have them jump and give an aggrieved mieuw, be prepared to make amends.  (Milk-flavored cat treats work really well.)
Need a feline of your own?   According to a great Facebook page, For the Love of Black Cats, black cats are the last to be adopted from shelters.  Black Cat Rescue, a no-kill organization in Boston, say on their webpage that a black kitty is only half as likely to be adopted as a cat of a different color.  And in  2012 the Pasadena Humane Society even implemented low-cost adoptions of both black cats and cats with partially-black fur: $13 per adoption, the 13th of every month.
And if you give a black cat a forever home, prepare for lots of purrs.   Just keep an eye on that mug of milk you're drinking.