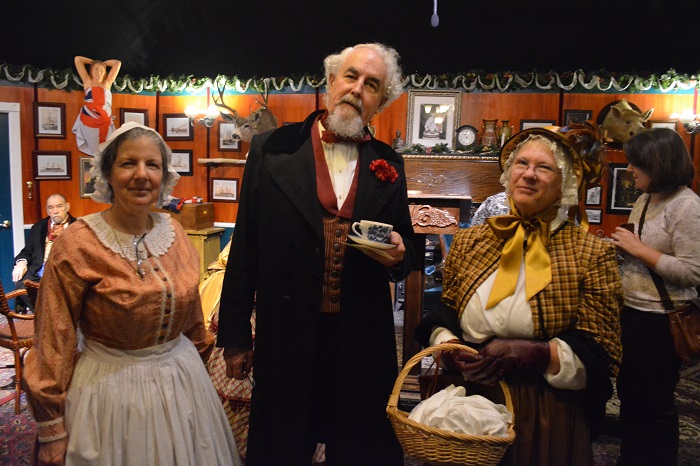 "As (Dickens Fair co-founder) Phyllis Patterson used to say, 'teaching is a learning, with a laugh," says professional actor Robert Young.  "The ability to have people truly enjoying themselves, and in the process, actually learning something."
Every Christmas season, Robert creates that process, at the very heart of a beloved Bay Area tradition.
Robert, who has four decades' experience in professional and community theatre, is now in his 28th season of portraying Charles Dickens at the Great Dickens Christmas Fair, which opens this Saturday, November 18th.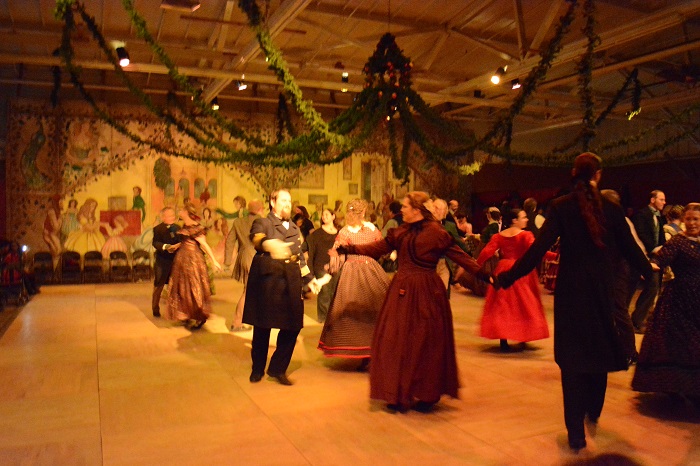 2017 marks the 35th season of the Dickens Fair, which is the only event of its type in the world.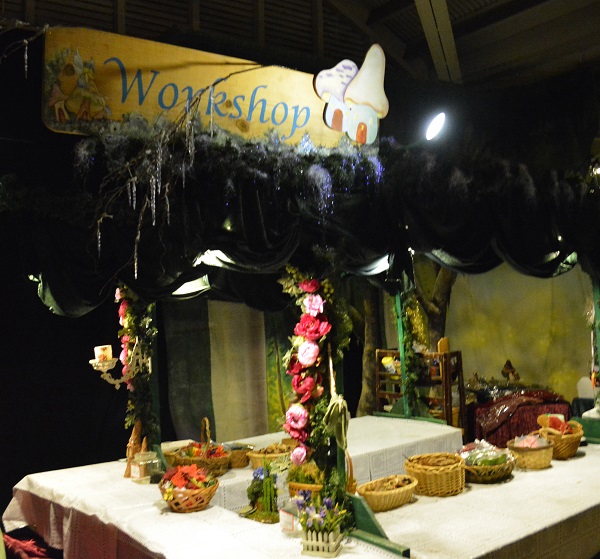 An immersive theatre experience and Christmas festival, it recreates Charles Dickens' London, just before Christmas.  Visitors will see and experience the sights, sounds, scents and festivities of Victorian England–including entertainment, food, crafts, games and even "Fezziwig's Dance Party".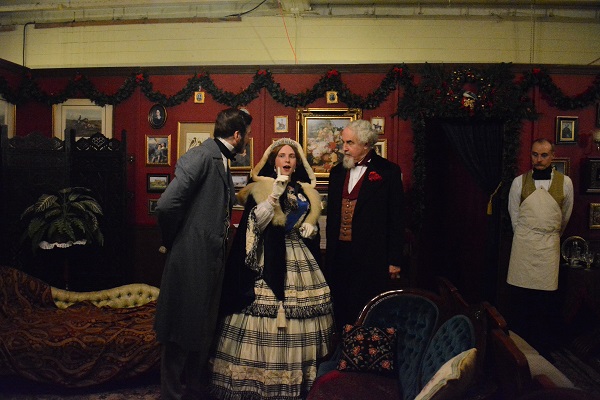 As "Mr. Dickens", Robert will spend five weekends (plus the Friday after Thanksgiving) giving four key readings, daily, from "A Christmas Carol" at various Dickens Fair venues.  He'll also be interacting with visitors at The Adventurers' Club,  very possibly meeting with the "Queen" as well as some occasional poetry and fairy tale readings.
"You never know when those are going to show up.  They're kind of fun to do," Robert says.
Although his role is a highly demanding interactive one, Robert says the time seems to fly.
"Those nine hours go very quickly.  It is exhilarating.  I don't really feel tired at the end of that time (and I think most of the players in the Dickens Fair feel the same way)", he says.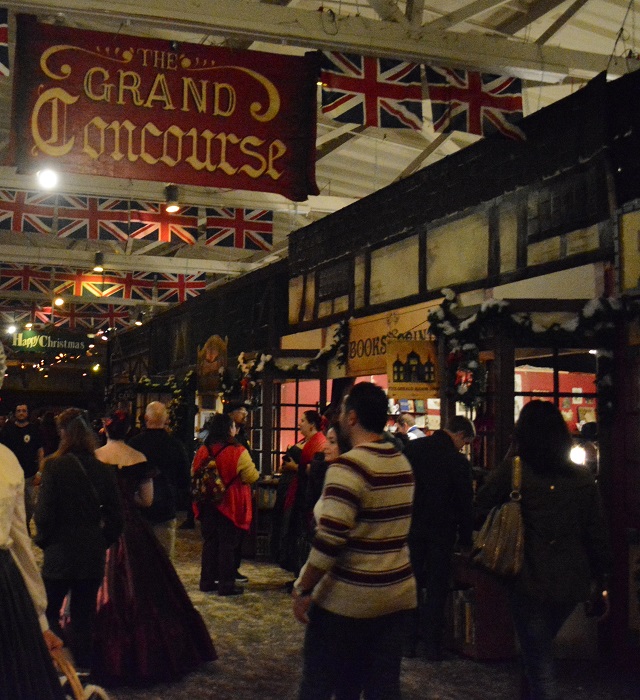 So, how did all of this get started for him?  Robert says his interest in theatre began at an early age.
"My mother was an artist herself, a musician, and she put me in my first little theatrical production, a musical piece, when I was four years old," he explains.
"I sort of stood out, even then, as someone who would love to do that."
From there, Robert had intensive musical training–but wasn't involved in theatre again until his teens.  A high-school drama instructor–who was also a working Equity actor–would reawaken his interest.
"(He) really inspired me, and I took off from that point," Robert recalls.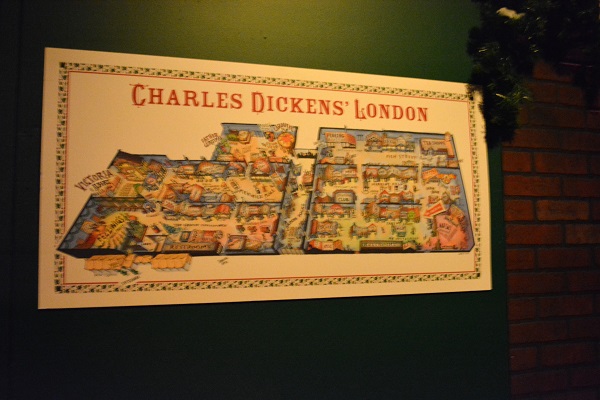 Robert's involvement with the Great Dickens Christmas Fair began while he was working with the original Renaissance Faires, in Novato and Agoura.  Red Barn Productions, the company producing the Dickens Fair, was also the creator of those original events.
While Robert was playing historical Renaissance characters,  "One of the producers of the Faire, Phyllis Patterson, stopped me one day, looked me square in the eye and said, 'You should play Charles Dickens'."
The rest is Victorian-Christmas-celebration history.  The following year, Red Barn Productions did their first and only production of the Dickens Fair at Sacramento's Cal Expo, at which Robert portrayed Charles Dickens.
"That was my first year doing the role, and it stuck," he says.
Over the past twenty-seven years, Robert has kept his character interesting and authentic by continuing to learn about Dickens' life.  His research has included traveling to the U.K., at least once a year, and visiting Dickens' old residences and places referenced in his writing.
Twenty-first century technology helps, as well.  "Looking at material that I haven't seen before," Robert explains.  "In our age of digital production,…new stuff (on Dickens' life) comes up all the time."
And as the Dickens Fair celebrates its thirty-fifth season, "new stuff" will be coming up there, as well.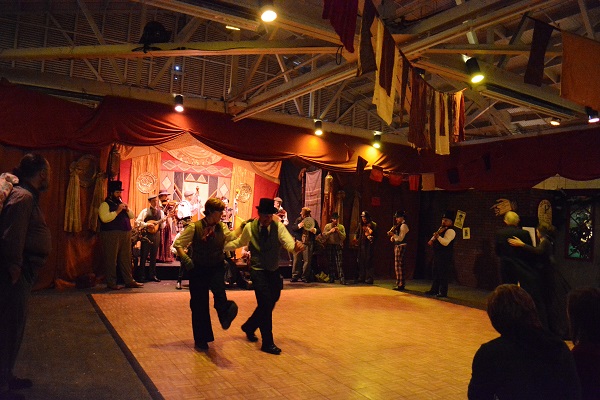 "Each year it's a new show," Robert explains.  "We put on new shows on the stages, and some of the stock pieces, like the tableau we open with every day, will change a little bit this year.
"There are some highlights this year: we'll be doing Gilbert and Sullivan's Trial By Jury," Robert continues.  "I've seen part of the rehearsals, and it's just magnificent.  

In addition, he says, "there'll be a brand new show in Mad Sal's area this year, a brand-new 'Saucy French Postcards' show" for the more adult Dickensians.
And, of course, favorites like the Father Christmas Parade, fantastic food and the Queen's procession to Fezziwig's Dance Party will all be a part of the 2017 Great Dickens Christmas Fair.
Part of the magic, Robert says, is the Dickens Fair's location.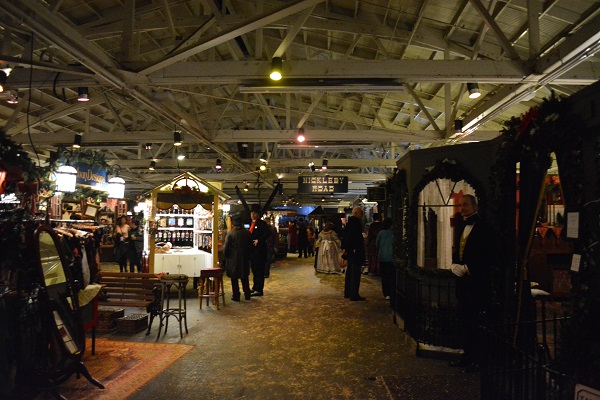 "It is a delight that we've been able to do this fair in one venue, the Cow Palace, for the eighteenth season here coming up," he explains.  "It allows for more of the public to become aware of the show, who have perhaps never experienced it before.
"It's a very unique production, and it's a very worthwhile event.  People that I speak to, after they've come for the first time, will often say, 'Oh, my goodness, I had no idea, this is going to be our family Christmas event, every year.
"It's really a thrill, to be able to continue to offer this to the public.  That delights me…what we're all able to do together to present this.  It's a thrill for us, as well as for the public."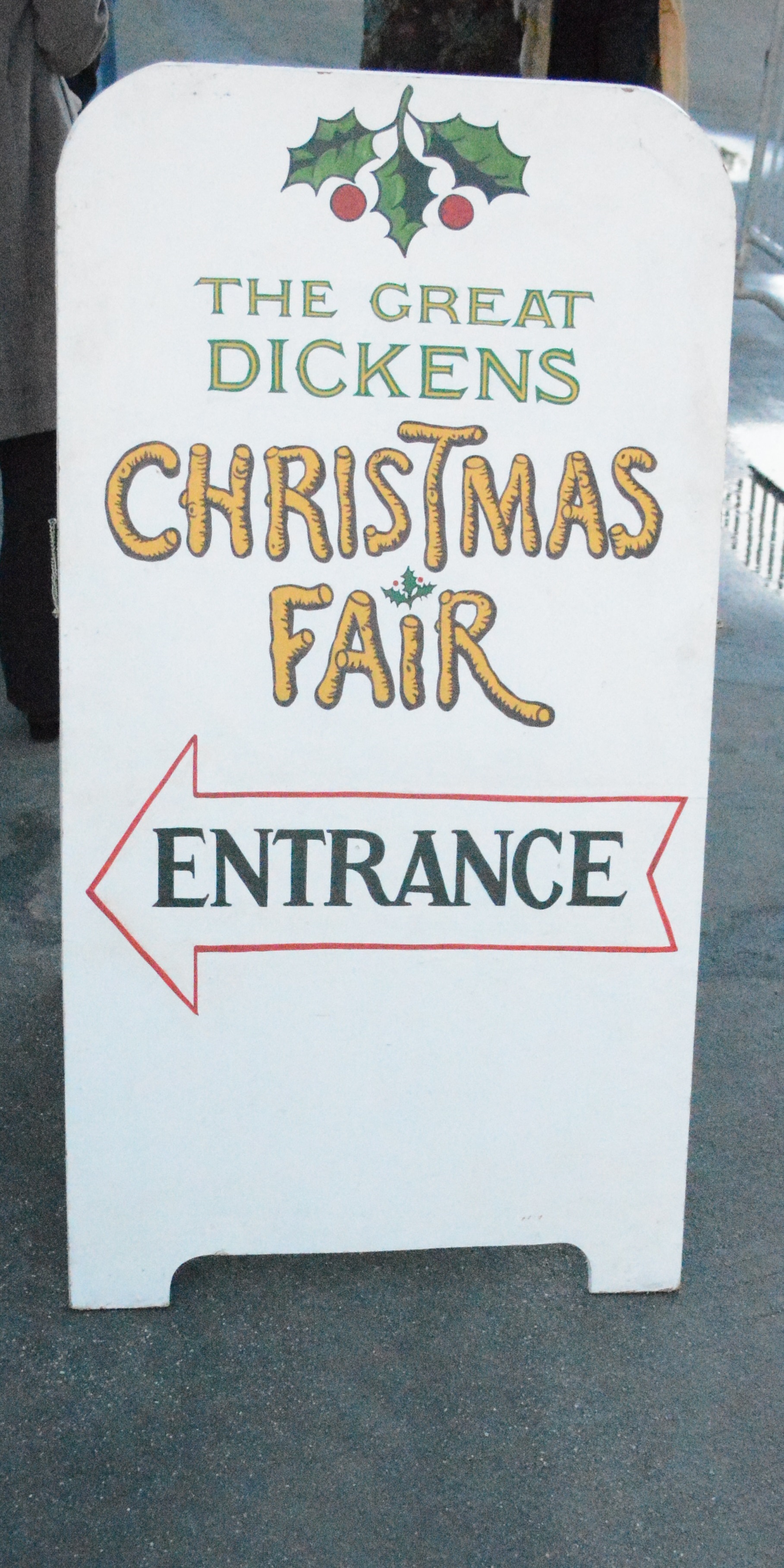 The Great Dickens Christmas Fair opens for its 35th season this Saturday, November 18th at 10 am and runs five weekends, through Sunday, December 17th at the Cow Palace, 2600 Geneva Avenue in Daly City.  Hours are 10 am to 7 pm, and the Dickens Fair is open the Friday after Thanksgiving.  The Dickens Fair has "select day" ticketing, which means tickets must be purchased for the actual day you'll be attending.  Here's the link for ticket and parking information.
In our next installment: A day in the life of "Charles Dickens", at the Great Dickens Christmas Fair.