by Noella Noelophile®
"The park's going to get muddy," warned Long Beach "Chief Inspiration Officer" Justin Rudd.  "(Staying on) the concrete is good."
It was Saturday, just before noon, at Belmont Shore's Livingston Park.  And Long Beach, like most of Southern California, had just experienced a powerful winter storm on Friday.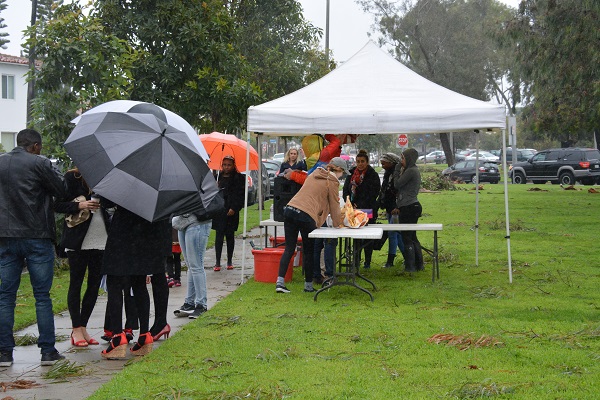 More rain threatened, then began to fall lightly, as volunteers checked in participants for the seventh annual "Red High Heels Walk for Heart Health Month".
But the weather did nothing to dampen anyone's enthusiasm.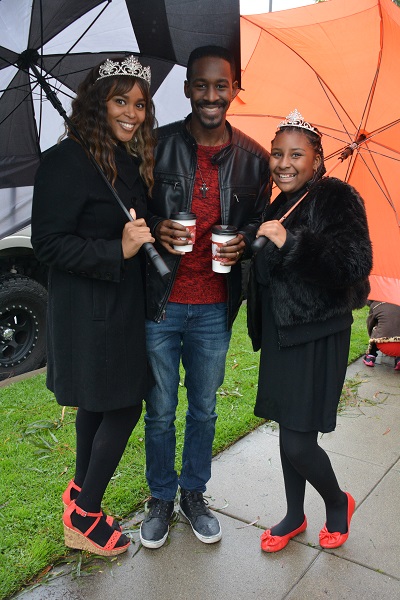 Groups, and individual participants, turned out in spite of the damp weather.  Red shoes, red clothes and heart-health slogans were part of the fun..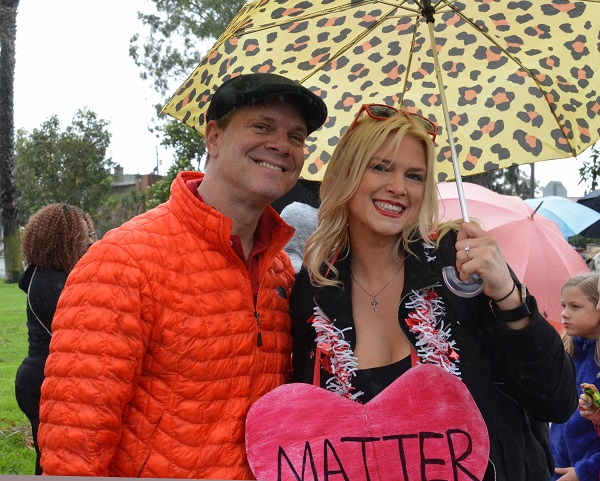 In just a matter of minutes, everyone would be leaving, to walk a mile on Second Street in red shoes–heels or otherwise.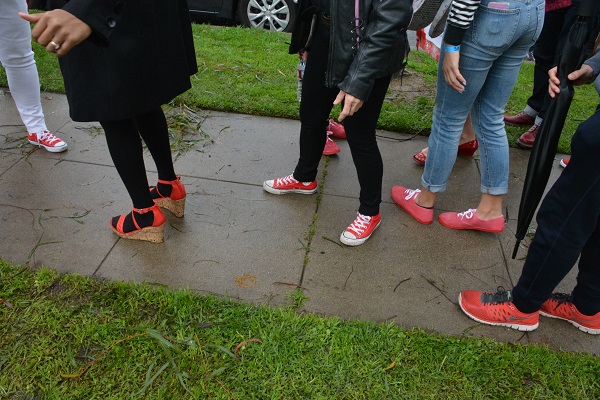 Their purpose: to raise heart health awareness, while fundraising for Long Beach nonprofits..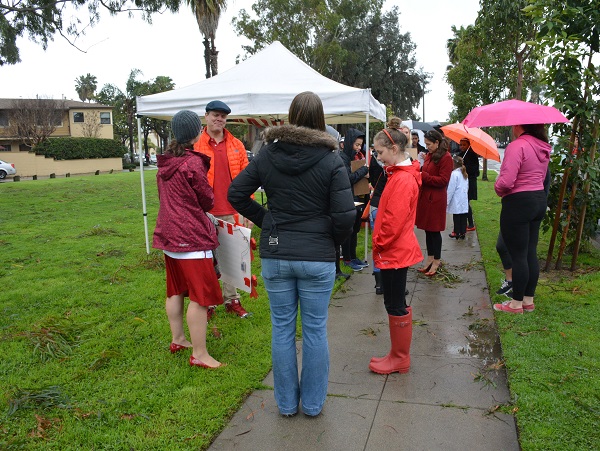 Justin's 501c3 nonprofit Community Action Team would donate up to three thousand dollars for the day to local organizations,  according to the free event's Facebook page.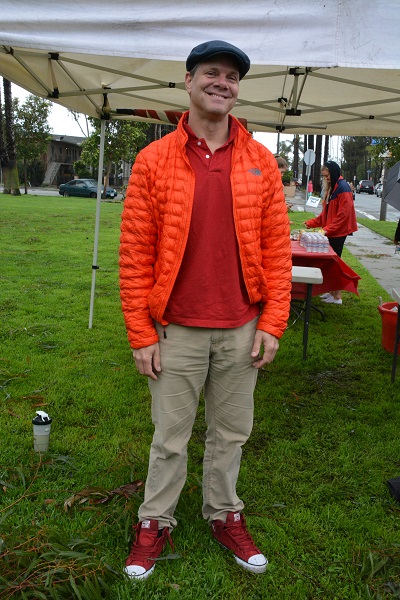 Justin, and Community Action Team, first implemented the "Red High Heels Walk" in 2011.  As a community activist, Justin hosts around sixty events per year, in Long Beach.
Despite the name of this particular event, participants may complete the "Red High Heels Walk" in any red shoes.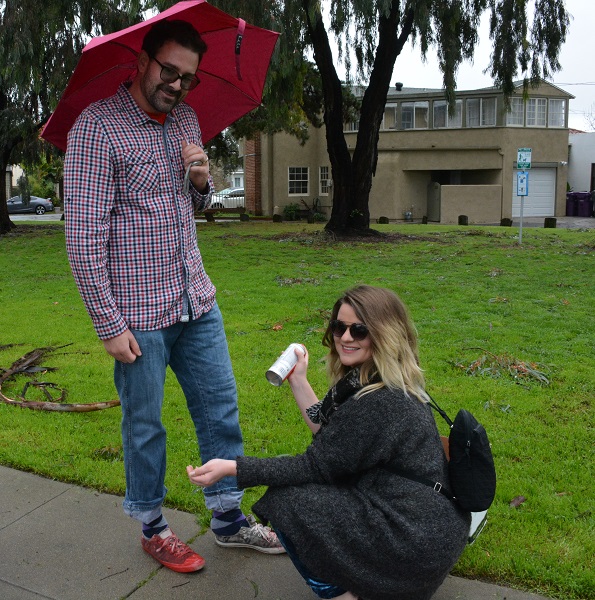 And those shoes don't necessarily have to start off scarlet.    Several pairs of sneakers became Valentine-red just prior to the walk, as the scent of spray paint filled the air.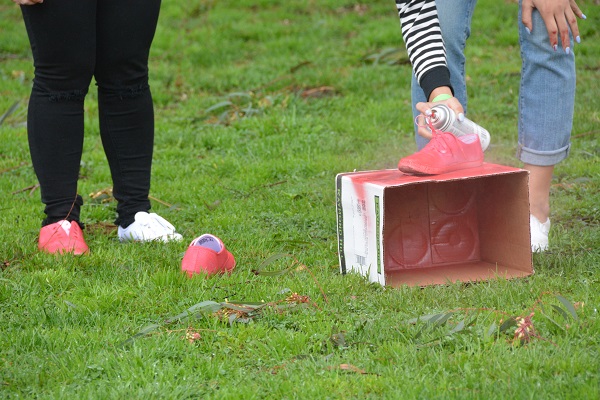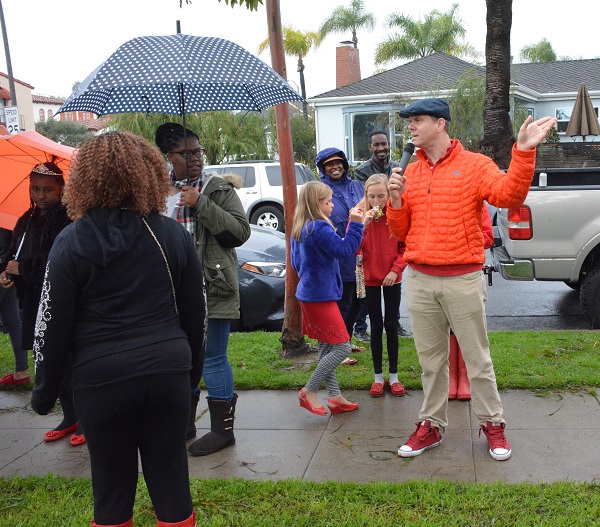 "Does anyone here know someone who's had a heart attack?" Justin asked, as the event began.  Hands went up throughout the group.
Justin then invited anyone who would like to speak to take the microphone, and tell the walkers whom they were honoring, by walking.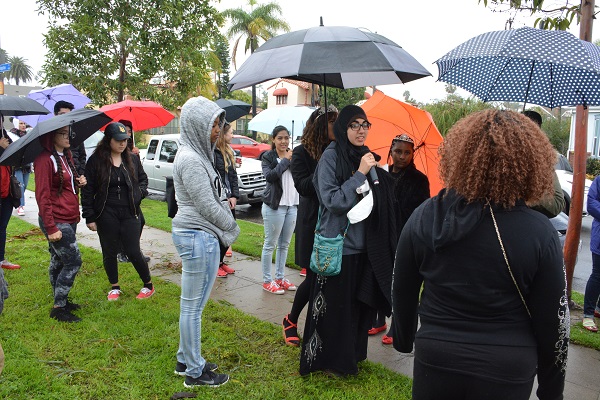 Among the first speakers was Aminah Tamimi, a member of CSULB's National Society of Collegiate Scholars.  She told her listeners that her grandfather had survived a heart attack, and lived for a number of years thereafter.
After several other short speeches, the time arrived for the national anthem.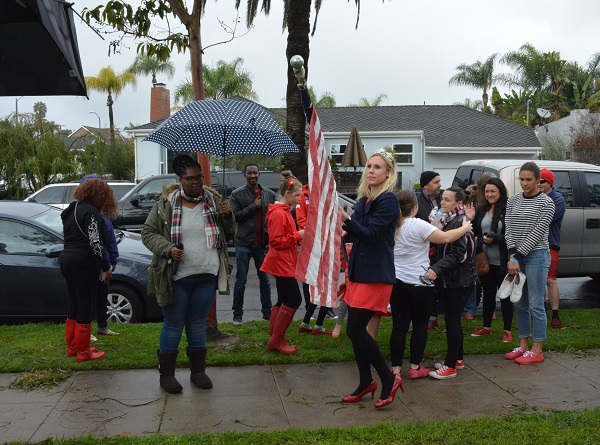 Miss Long Beach 2017, Kristina Gallas, brought the flag from its shelter.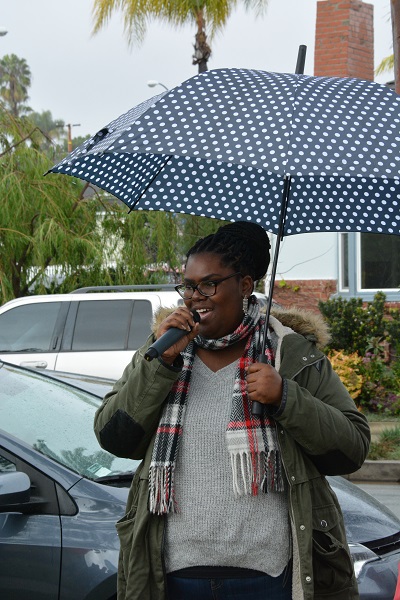 Sixteen-year-old Katelyn Hunter, winner of the 2016 National Anthem Sing-Off, delivered a goosebump-inducing rendition of "The Star-Spangled Banner".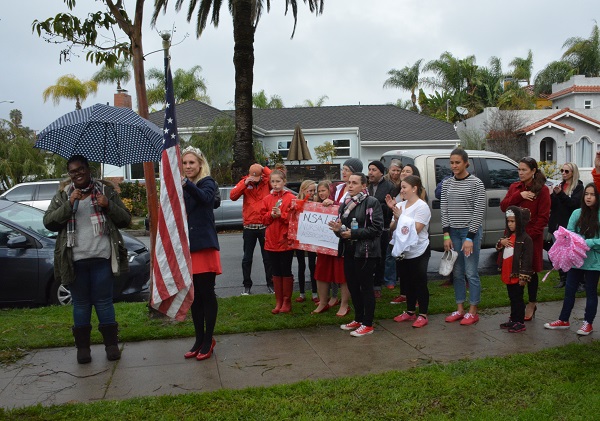 Cheers and applause followed.
So did several other moving stories from walk participants.
Struggling with her emotions, a walker from Long Beach City College's Nursing Student Association dedicated her participation in the walk to her mother.  Her mom had had a fatal heart attack in 1993.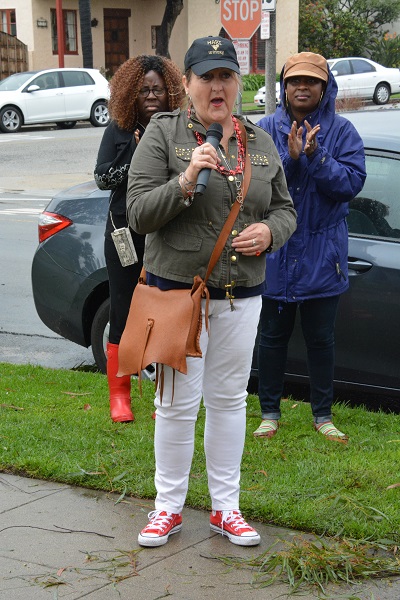 And the speeches ended on a positive note, as participant Cathy Hart told the group that she was a heart attack survivor.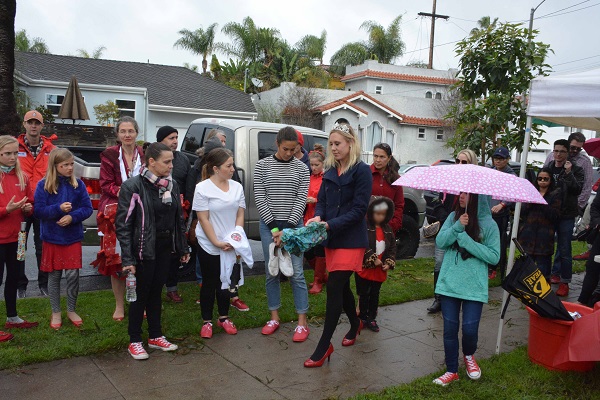 Then, Kristina stepped forward to start things going.
"So, everybody, if you will just fall in line behind Kristina here, and we will see you on the street," Justin directed.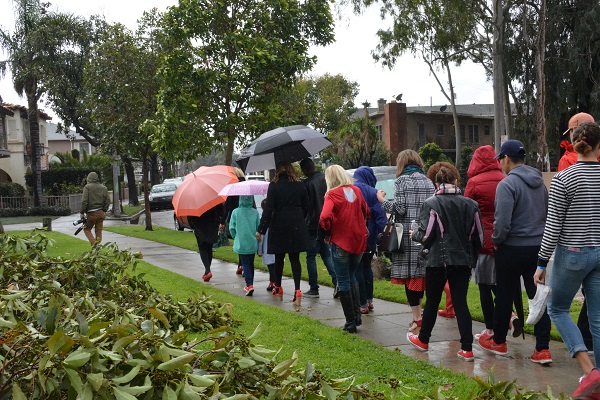 Long Beach's seventh annual "Red High Heels Walk" was under way.
This year–possibly due to the wet weather–participants didn't walk across the usual "red carpet" to begin.  But no one seemed to mind.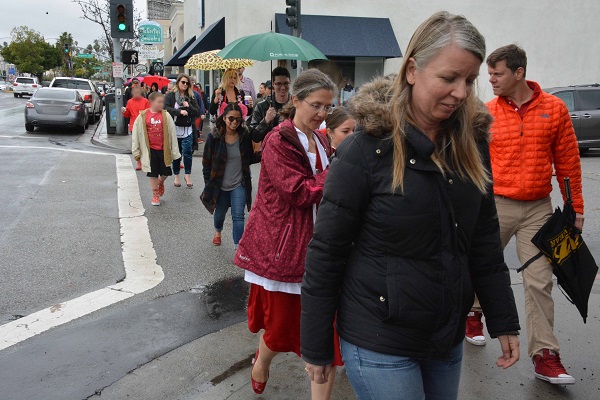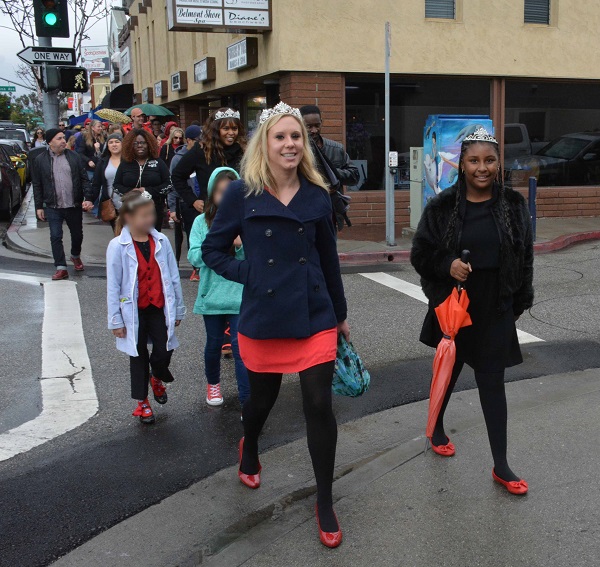 Business owners and passersby smiled as the group of approximately one hundred walkers made its way up Second Street.
Walkers waved and called out greetings to passersby and motorists.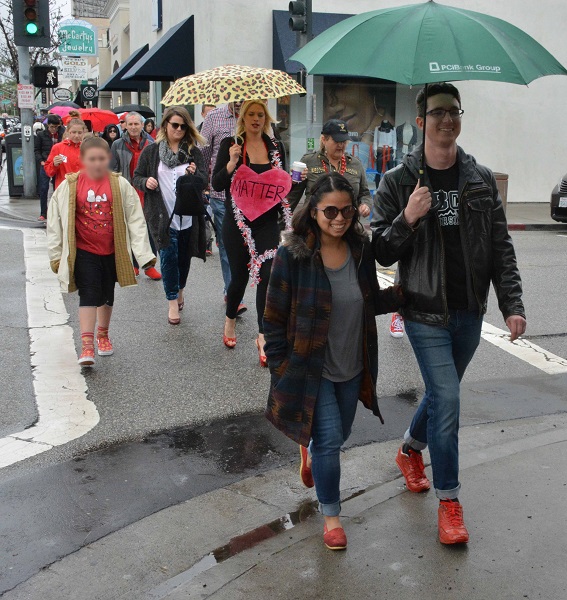 "Heart healthy, live wealthy!" chanted the group, at numerous points as they walked along.
And even the weather seemed to support their message.  About halfway through the walk, the sun came out!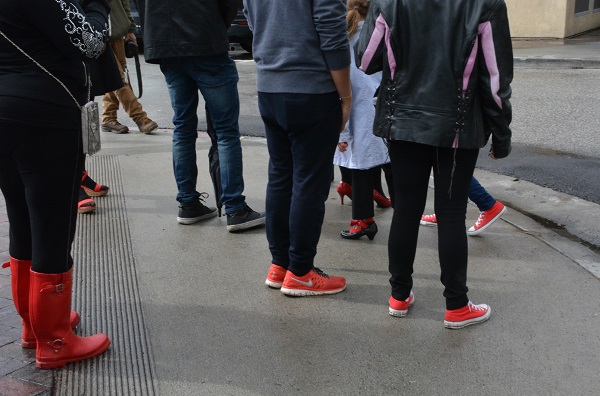 The one-mile "Walk in Red High Heels" lasted about forty minutes.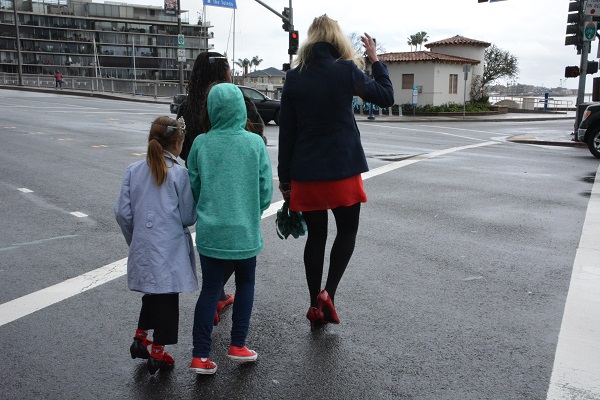 Walkers proceeded up Second Street, past the fire station  and then turned around at The Toledo, walking down the opposite side of the street on their return trip to Livingston Park.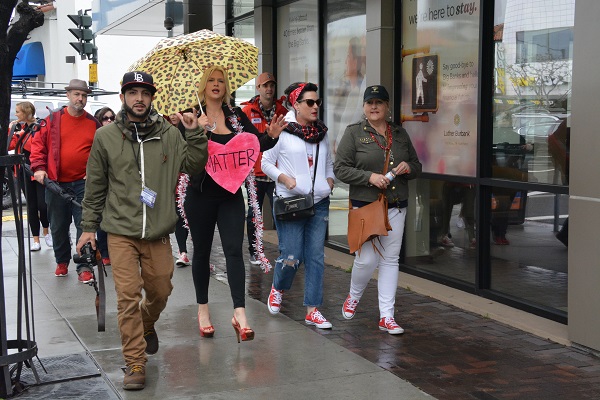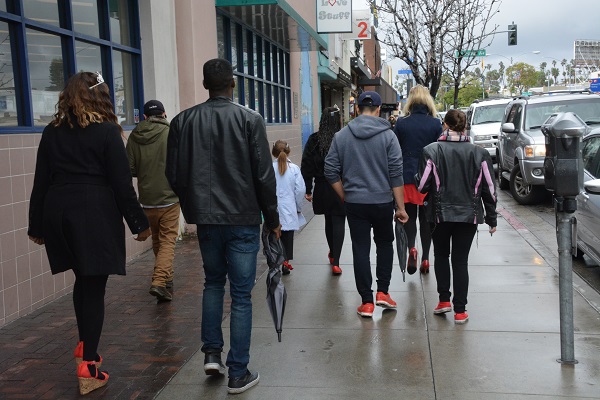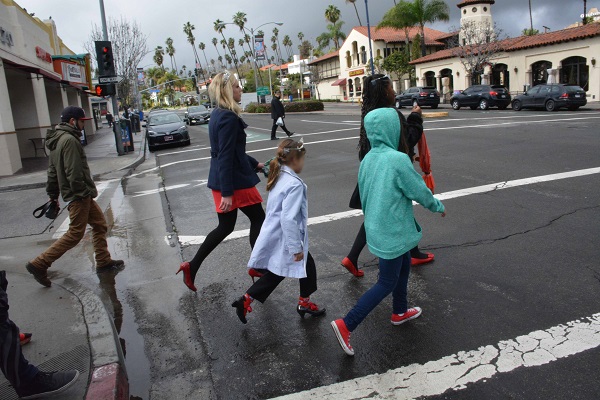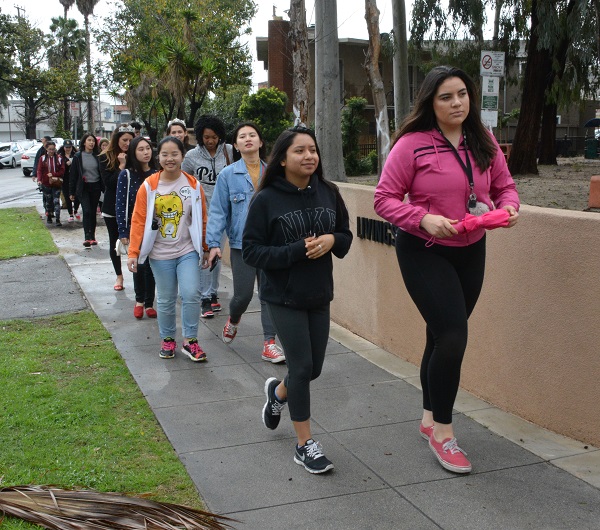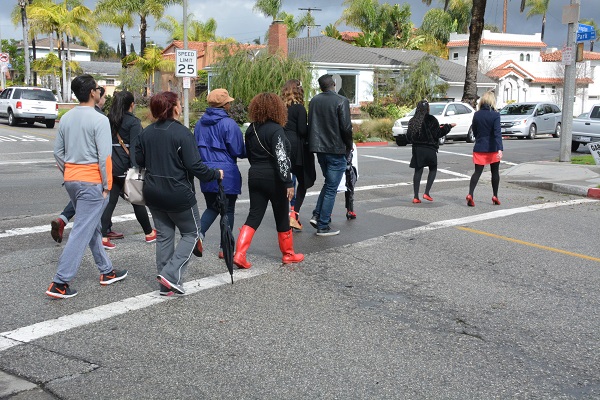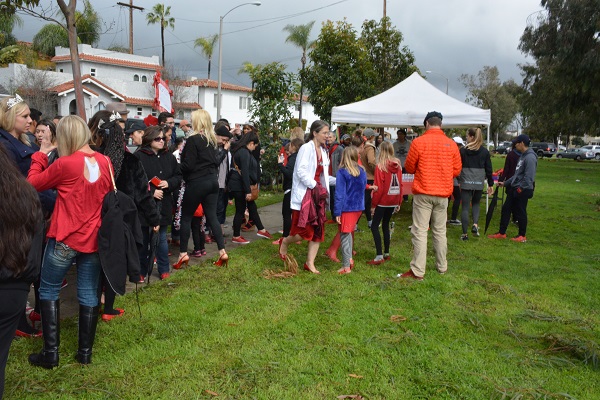 Once back at the park, there were smiles, music and thank-you's as walkers enjoyed refreshments and posed for pictures.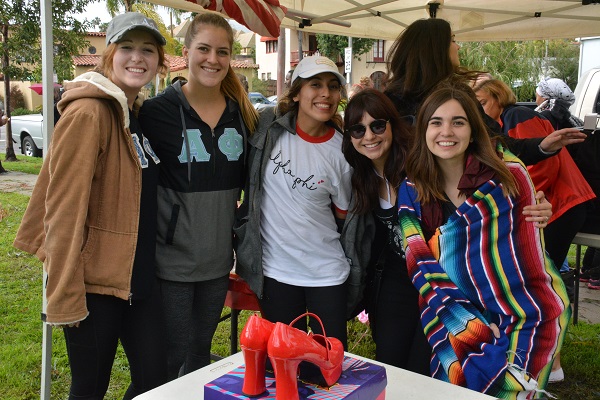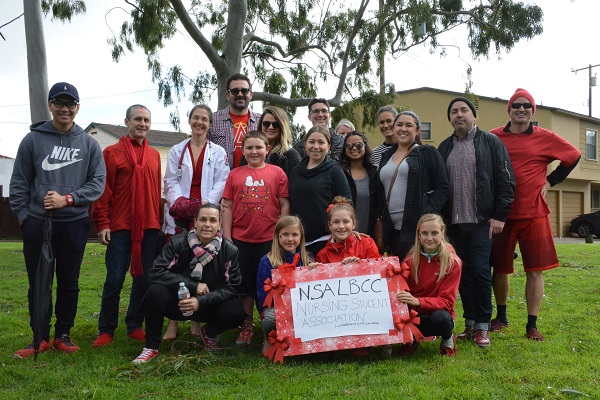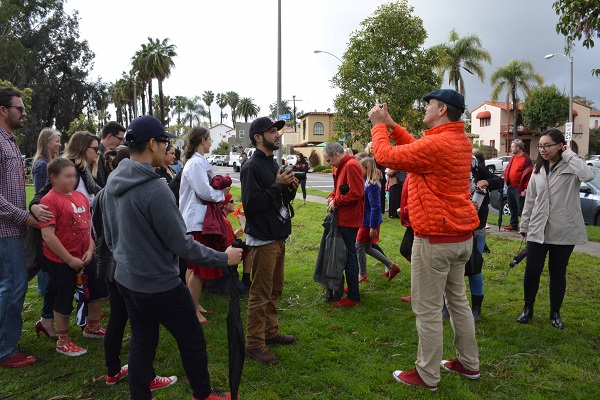 "This looks (to be) about a hundred people.  Despite the weather, that's pretty good," Justin commented.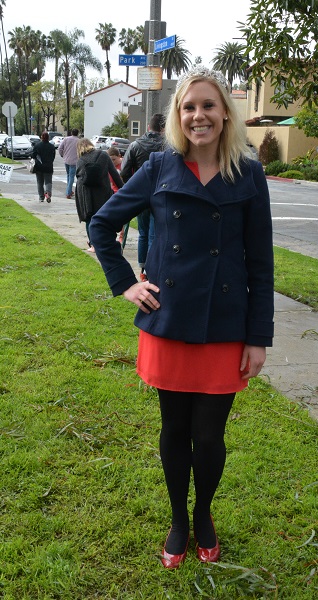 Kristina said leading the walkers had been a great experience  "This is my second Red High Heels Walk," she said.
Asked whether Friday's extreme weather had  threatened to cancel or postpone the Saturday walk, Justin responded, "Never.  All of our events are rain or shine.  It sprinkled right before it started, but out on the walk today, it was beautiful."
"I love hearing stories of why people are participating," he continued..  "And to hear the lady…a few different people, (talk about) having lost people to heart attacks, that's always touching to me.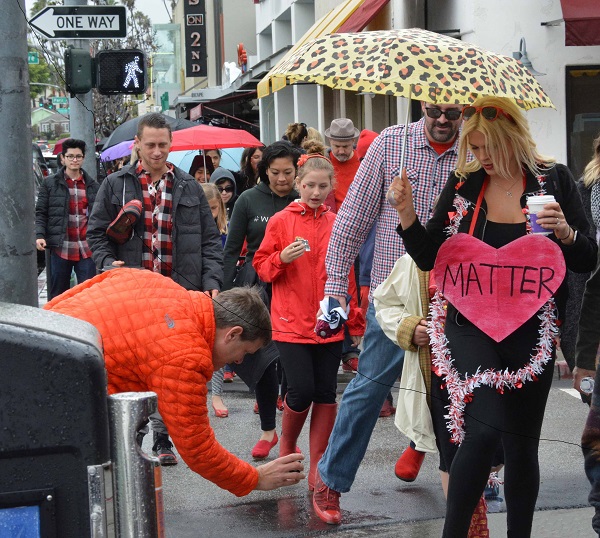 "I also love just the camaraderie that an event like this creates.  I was able to talk to some of the people as we were walking along…they want to be in the community, doing something that's productive, and they did that this morning."