by Noella Noelophile®

Warm-looking cherry wood, gleaming copper and the dark-versus-light contrast of curly maple and walnut.
All of the above are at the core of David Ortega's artistry.

Fine woodworking is David's medium, and he does all kinds of different projects.  Clocks, though, are his main focus through his small business, Heirlooms Etc.
David creates his clocks "from the drawing board", and his designs are frequently inspired by the architecture of Southern California.  He's exhibited his work twice in the San Diego County Fair, once in the Orange County Fair, and at multiple art festivals in Southern California.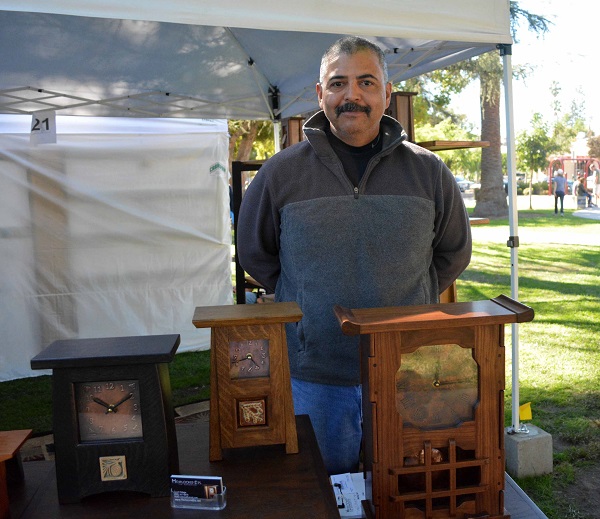 When we met at Jackalope Arts' 2015 Winter Fair, in Pasadena, one of my absolute favorites, among his designs, was his copper-faced clock with a hand-tooled hummingbird on the dial.
If you haven't yet found a special gift for someone important in your life, you might like to take a look at David's Etsy shop.  He also takes custom orders, if you're looking ahead to 2017 and have some time before a unique gift is needed.
David talked about his background, how his small business, Heirlooms Etc., came into being and some of the inspiration behind his clocks.