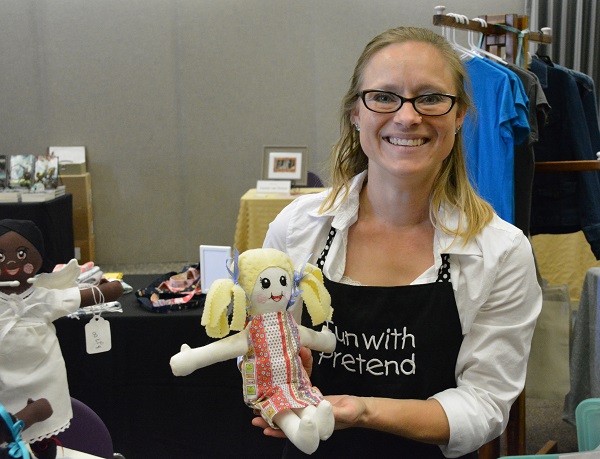 Passion and quality are at the core of award-winning fabric artist Krystina Kyle's work.  So are memories of a beloved grandmother.
But a shopping trip–and a sense of disappointment with what she saw–are what ultimately led her to start her small business, Fun With Pretend, through which she designs and sells her handcrafted dolls.
Today, Fun With Pretend is just over a year old.  And already, Krystina has racked up some pretty impressive honors.
Both dolls she submitted to the 2016 L.A. County Fair won ribbons, with her Mushroom Pixie, above, taking both first place and "Best In Show" in the "Help a Child Smile" category.
Meanwhile, her hand-sewn mermaid doll won third place in the "Rag Doll/Toys" division.
In addition to pixies and mermaids, Krystina's creations cover a wide range.   Angels, cats, smiling rag dolls with stand-up pigtails and even a cute elephant doll are all in her repertoire.  And she takes custom orders–but, Krystina cautions, she gets booked very quickly.  If you have a special gift recipient on your list for Christmas 2016, and you'd like to have Krystina design something unique, be sure to contact her by mid-November, on her Facebook page.
Krystina talked about her background, shared the story of her small business and offered a preview of some of the dolls she's been crafting for this Christmas season.
Would you like to meet Krystina and see her dolls firsthand?  She'll be exhibiting her work in the Torrance Craftsmen's Guild's "47th Annual Holiday Arts and Crafts Faire", Saturday and Sunday, November 19th and 20th, at Torrance Cultural Arts Center, at Madrona and Torrance Boulevard!  Hours are 9 am to 4 pm, both days, and admission is free.
.>