by Noella Noelophile®
The scent of patchouli.  A whiff of orange blossom.  A dash of Christmas peppermint, ginger or pine.
Those are just some of the fragrances Jena Baxter includes, as she handcrafts her detergent-free Mystic Cove Soaps.
They're also just one aspect of her creative gifts.
Jena is an award-winning author of fantasy novels and short stories. (She won third place in the "Favorite Fairytale Author" category at FantasyCon 2016!)   And she has a brand-new Christmas story, Seasons, in the new Christmas anthology Enchanting Yuletide, which comes out on November 15th!
But if you can't wait to fall under her magical spell, you don't have to.
Jena's earlier novels, and the two anthologies in which her short stories are published, are available on her website.  And you might just like to grab a cup of coffee and settle in for a great read: she's publishing the first draft of her new novel, The Covens of Misty Haven, on her blog!  (A new chapter appears on the fifth of every month.)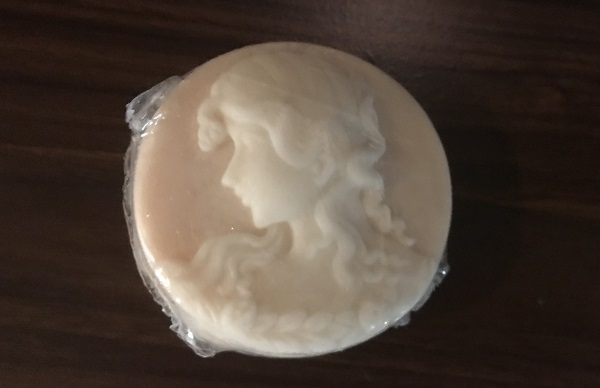 And–Jena handcrafts her soaps based on the themes of her novels!  We talked in mid-June, and she was just planning some Christmasy scented soaps to go with her new short story.
(The cake of soap above is her "Alexis' Orange Groves of Spring", from The Carriage.   I'm almost sorry to use it, it's so pretty.  I've seen cameos that aren't this well-defined!)
Jena talked about her background, the process of soapmaking, and, of course, her brand-new Christmas journey into an "alternate world" of magic.