by Noella Noelophile®
Pipe and Thimble Bookstore and Publishing Company is standing ready.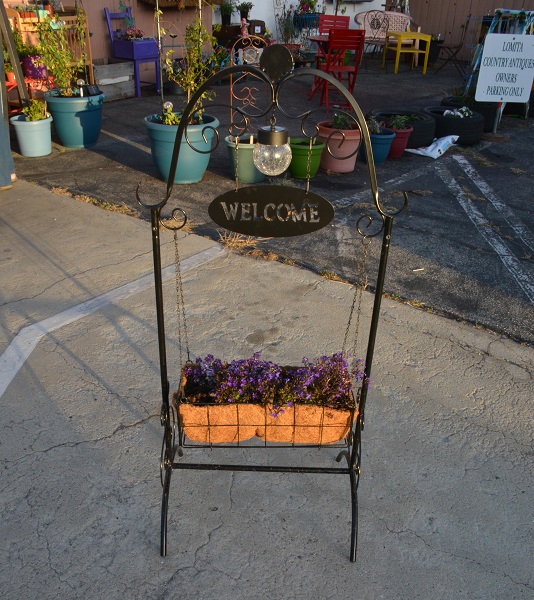 Their grand opening happens this Saturday, May 6th.  Lomita Mayor Mark Waronek will be on hand at 11:00 am sharp, for the ribbon cutting that will officially open Southern California's first all-independent-author bookstore and creative space.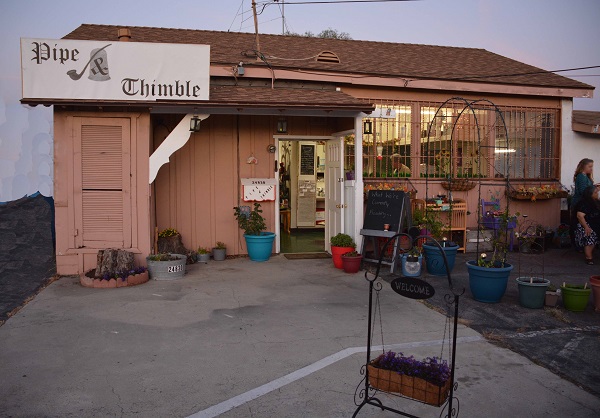 They'll have live music all day, from a number of talented local musicians. Oh, and of course there'll be food, courtesy of RSVPea Catering.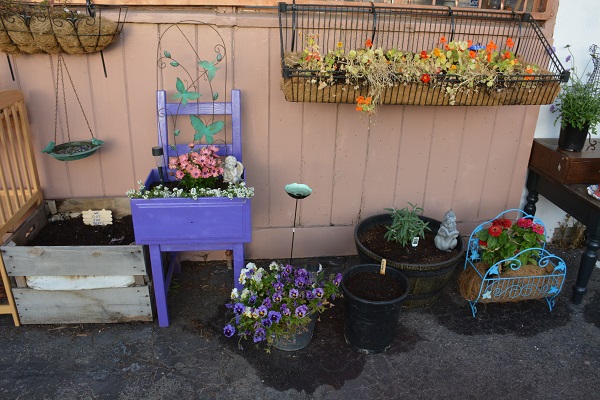 And proprietors/authors/"artrepreneurs" Barb and Ellie Lieberman appear to have waved several magic wands since we spoke, in early March.
At that time…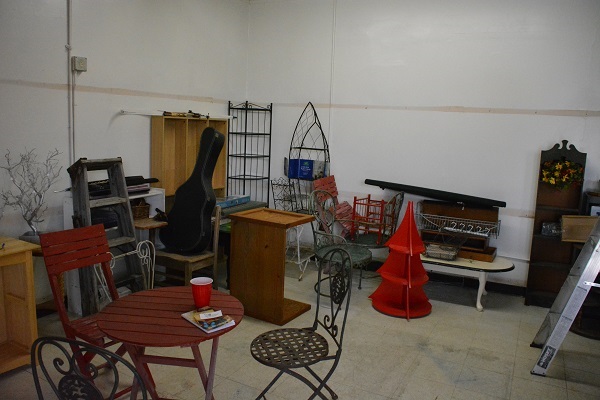 … they were painting walls and planning some unconventional shelving for their new store.   A Christmas tree, wire racks, a wire boat and various trunks and tables waited to be put to use as displays.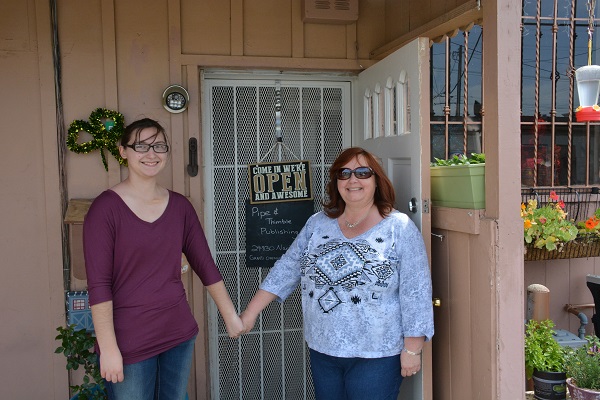 Barb and Ellie, a mother-daughter creative team, had envisioned Pipe and Thimble while publishing a number of their own books, as independent authors.
"It's an opportunity for indie authors to see their books on a shelf," Barb explained. "It's really hard to be an indie author, and it's made more difficult by stores not carrying indie authors' books."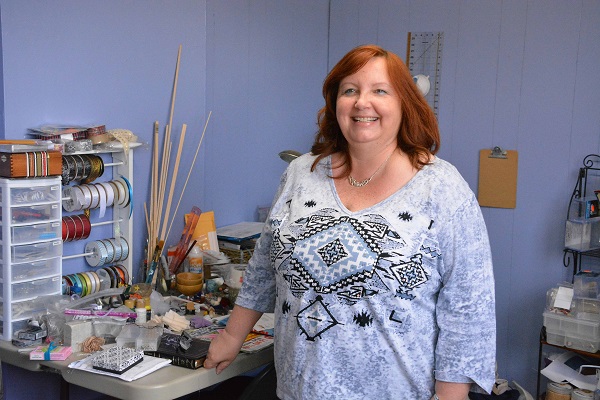 Consequently, she said, Pipe and Thimble will offer book signings and author events, promoting their authors in a way they normally wouldn't be promoted.  However, they are not a vanity press.
Currently, Pipe and Thimble stocks more than 250 titles by independent authors.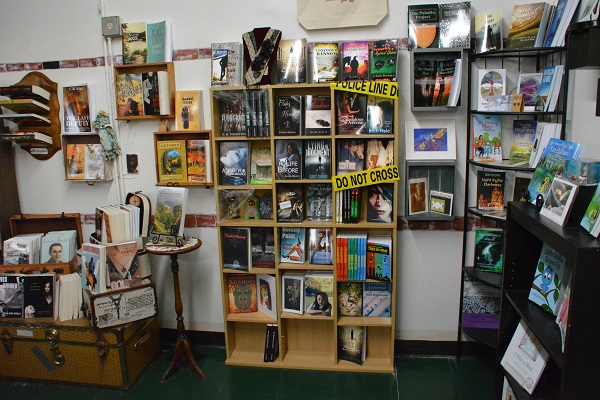 "And we're going to build unique displays that attract you to (our books) by genre, by age group," Barb said. "Everything is going to be movable, so every time you come, it's going to be different."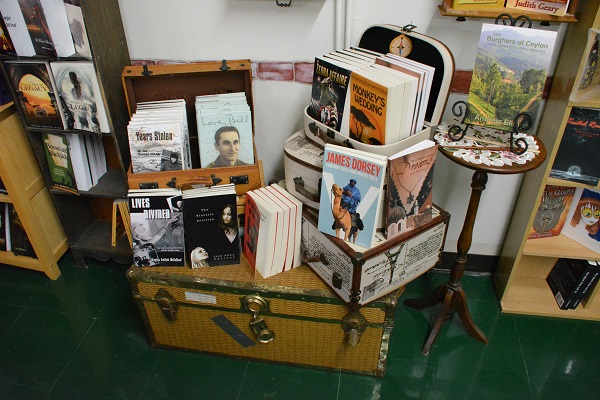 Now, why the name–"Pipe and Thimble"?  Barb says it's in honor of her late parents, who crafted dollhouses and miniatures in the 1970s.  The pipe represents her father, the thimble, her mom.
"Everything we do at Pipe and Thimble Publishing is inspired by the way my parents would do business, (the way they) would interact with people," Barb said.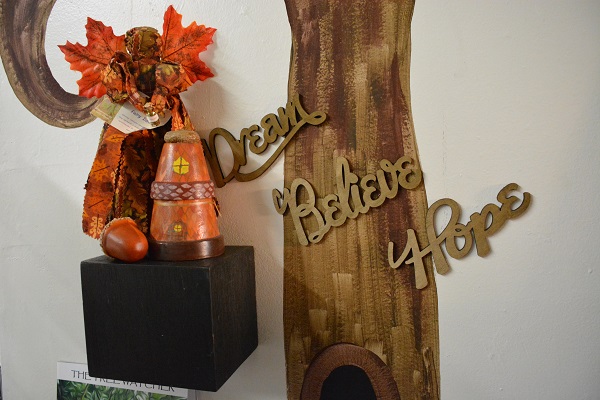 Meanwhile, Ellie was getting into doing the painting.  "I've…started on a 'wall of waves'," she said, explaining that this section would use a boat as a wall shelf unit for books with an ocean or pirate theme.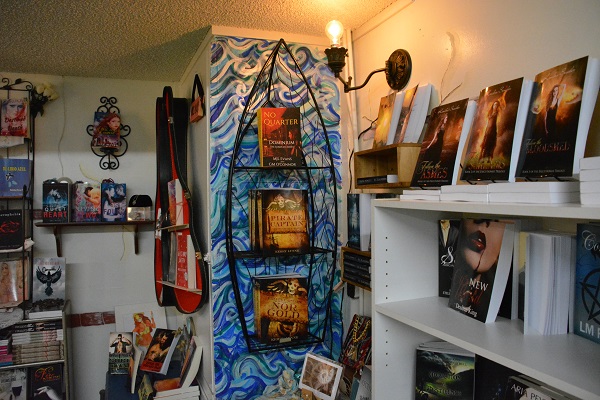 On Friday evening, April 28, visitors had the opportunity to see how all this creativity turned out, in a sneak preview.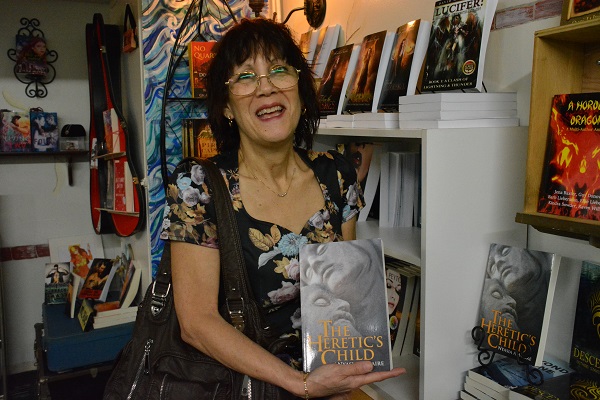 Several authors were on hand, including Nyasia Maire, author of The Heretic's Child, a fantasy novel that is all but certain to catch you up in protagonist Emma's world from Page One…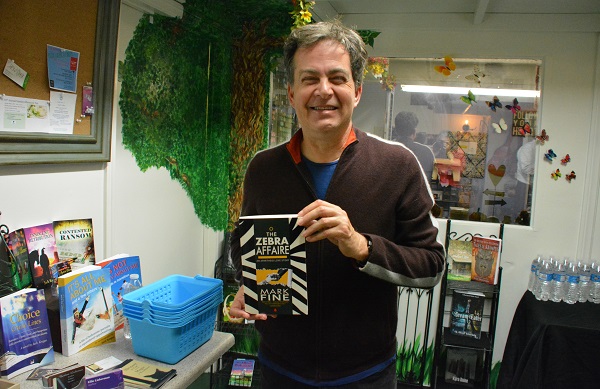 And Mark Fine, author of the historical romance The Zebra Affaire.  Mark will be one of two featured authors at Pipe and Thimble's first book signing event on May 13th.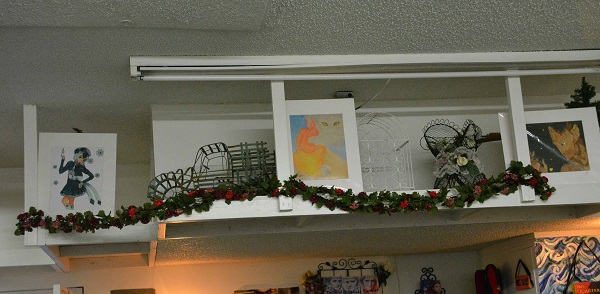 Several artists whose work is on display had come by to celebrate. (When you come into the store, be sure to look up–or you might miss Jessica Silagy's graphics!  Gifted Jessica is the proprietor of Jessie J Inspirations.  And be sure to check for the latest cool metal-chain jewelry Gale Rugnetta, of Angel Art Dreams, has been knitting.
No–that's not a typo.  Gale creates striking Viking-knit  bracelets, necklaces and earrings!)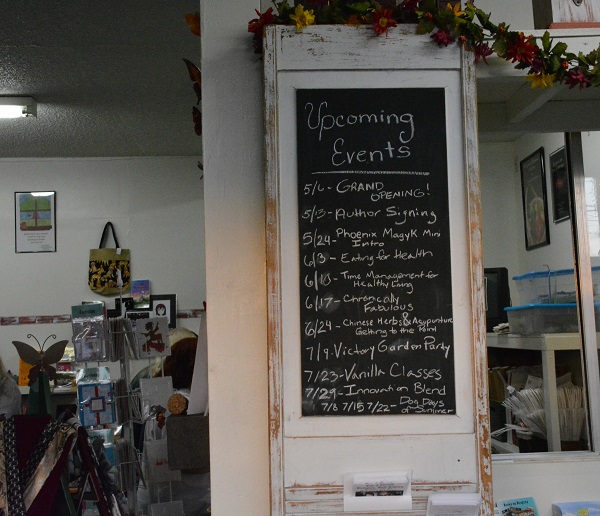 The whole community's invited to Pipe and Thimble's upcoming events–which include a lecture series and a special July 9th "Victory Garden Party" to benefit San Pedro nonprofit Packages for Patriots.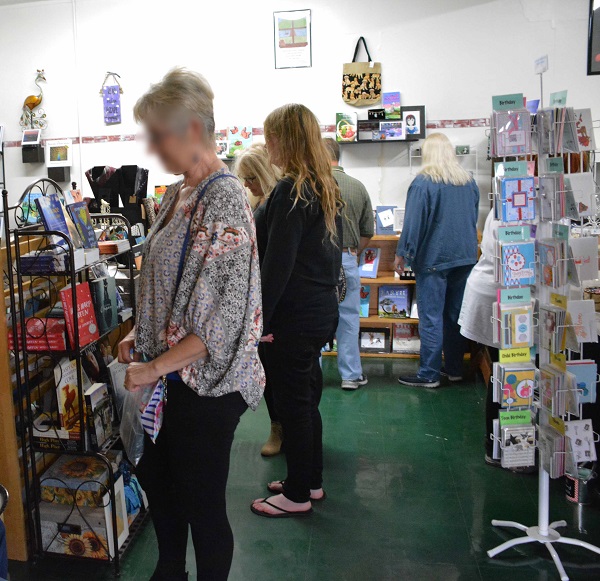 "We're like kids in a candy store in here," Barb commented, mid-evening.  "It's just so much fun."
Now, how in the world did she and Ellie pull all of this together in just seven weeks?  Ellie gave some insights into their magic formula.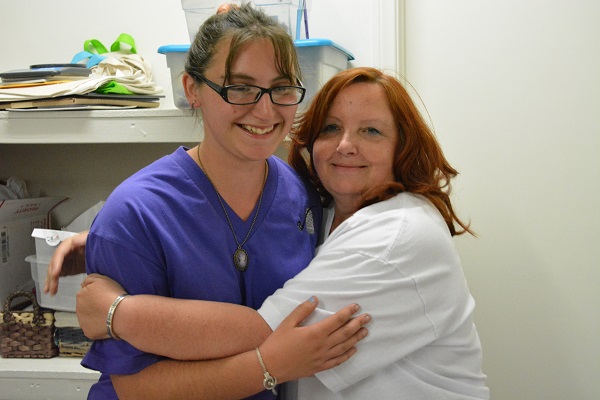 "Lots of caffeine, sugar and chocolate," she offered.  "And it definitely helps, having a partner like my mom."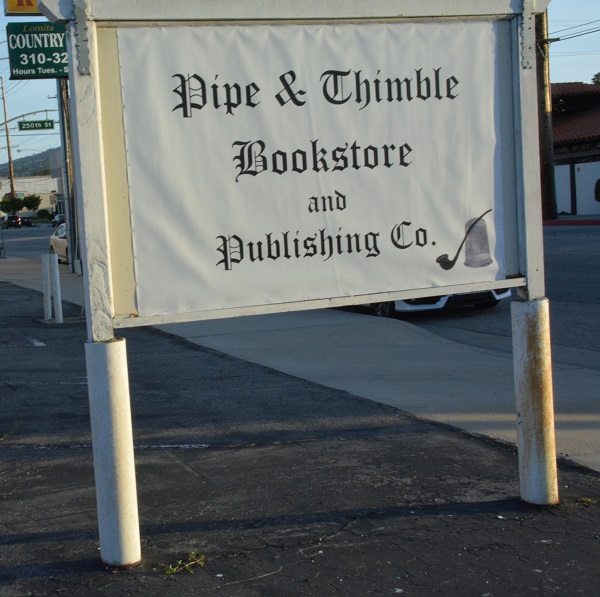 Pipe and Thimble Bookstore and Publishng Company has its grand opening on Saturday, May 6th, 11 am at 24830 Narbonne Avenue, near 250th Street, in Lomiita.  Come enjoy the music, art, and food and discover some of your new favorite authors!