by Noella Noelophile®
Approximately ninety gifted all-handmade vendors, plus music and food.
Did you just exclaim, "Where?!?"
If you did, I can't blame you–and they'll be back on Sunday.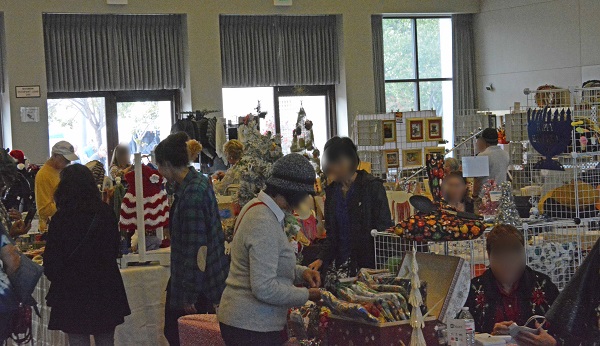 This was the scene, Saturday at Torrance Craftsmen's Guild's 47th Annual Holiday Arts and Crafts Faire, at Torrance Cultural Arts Center.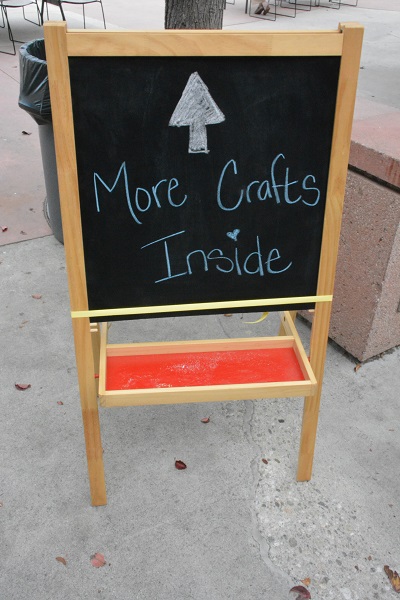 Three rooms filled with beautiful jewelry, pottery, lots of Christmas ornaments, clothing and graphics were enough to weaken the resolve of the most stalwart, "I-have-plenty-of-Christmas-gifts-bought-already-and-don't-need-anything-else" browser.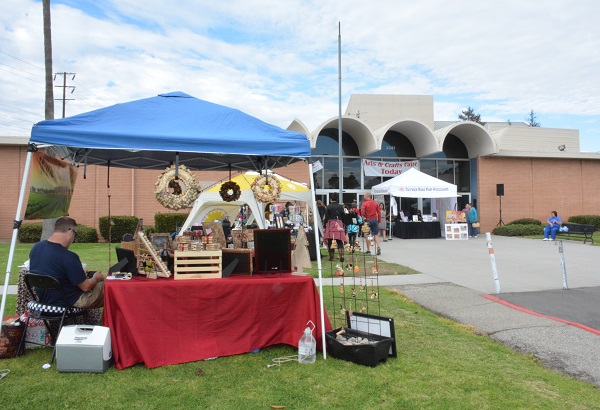 Because, of course, there are exhibitors on the plaza and outside the entrance, too.
As mentioned before, I love Krystina Kyle's award-winning handcrafted dolls, which she sells through her small business, Fun With Pretend.
When we visited on Saturday, she had gingerbread people she had sewn–because her son really loves the classic story, "The Gingerbread Man".  I won't ruin a surprise, but if you happen to buy one of her gingerbread dolls to go with your Christmas decor, even the box in which she'll pack the doll is clever and creative!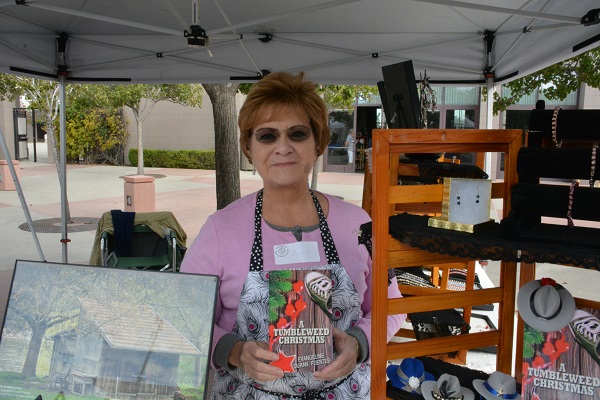 In December, we'll be featuring a conversation with Evangeline Duran Fuentes, who  is an incredible storyteller.  She was exhibiting her children's book, Waggles, with another children's book forthcoming within the next week–and a new novel coming out early next year.  (And you'll love her Christmas book, A Tumbleweed Christmas, based on her experiences in Texas as her kids were growing up.)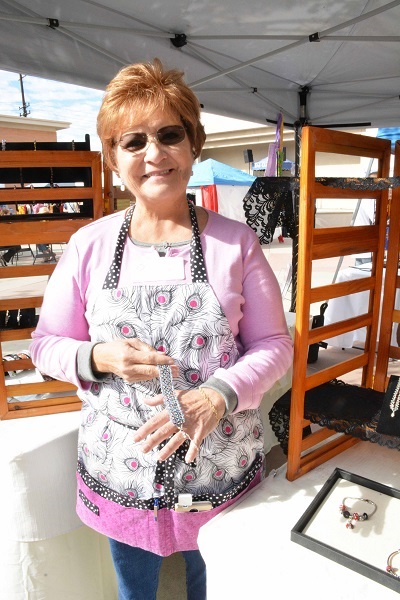 But we haven't said a word yet about her sparkly bracelets, which she sells through her small business Alluring By Design.       
Evangeline uses Swarovski crystals to create cuff bracelets that would be fun to wear for an evening out or any special occasion, and are–well, completely alluring.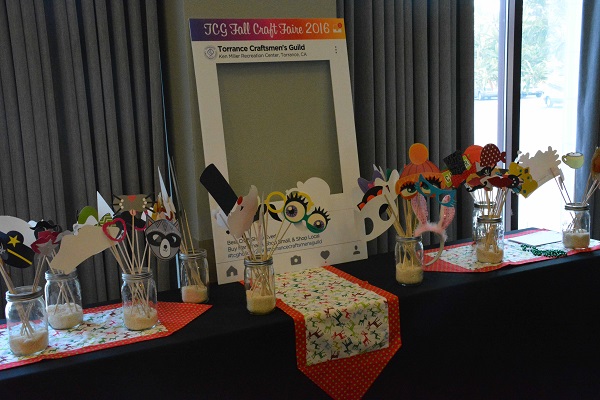 Who else did we especially like?  Who didn't we!  But due to limited space, here are just a few favorites: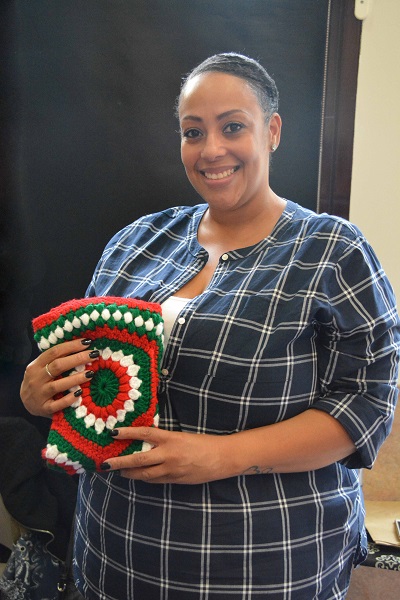 I love the name, and the Christmas stockings!  Danielle Fowler, of Sumtinprty Crochet,  had an exhibit of festive-looking stockings and other granny-square-inspired creations.  AND she takes custom orders!
In the first room we saw was Robyn Wellman, of Younique Ornaments.  She comes up with ornament designs that would look like patchwork–if patchwork could sparkle.  Robyn says crafting each of her ornaments takes her several hours.
On the subject of sparkling and shining–Donna Gary, of Donna's Designs, excels in that department!  I completely fell in love with her stylish scarves and wraps.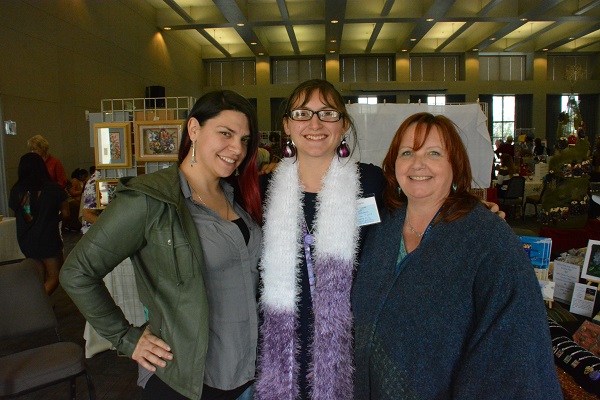 And who wouldn't be inspired–even as she's losing sleep while staying up to read "just one more chapter"?  That's been a hallmark of author Barb Lieberman's fiction books in the past.  Multitalented Barb (r), crafts all kinds of cool book swag and has just published a moving and deeply personal new nonfiction book, The Unchained Spirit.  Just a few pages in so far–and already it's reached out its pages to grab me–sleep will just have to wait.
In addition, when you stop by Barb's booth, you'll also get to meet Acorn Tops proprietor Ellie Lieberman (center), author of the new book Solving For X, and one of the featured contributors to the dragon anthology A Horde of Dragons.  
Ellie's previous book, Society's Foundlings, tells a story of very dark circumstances in such a way that the beauty shines through (and I don't know how she does that, but it's a great read).
Also, Ellie crafts enchanting fairy doors, fairy bottles and fairy houses–and she's starting to make a new batch of them!
A third gifted artist at the booth?  Jessica Johnson, of Jessie J Inspirations (l).  In addition to her imaginative and beautiful graphics, now Jessica is sewing some of the Seeds of Inspiration's sachets and other cool fiber-art creations!  (Those standup green Christmas trees are a personal favorite.)
(And–Barb has some wonderful news!  Can't tell you much more about it yet, but I'll certainly be filling you in on the details in the future.  Think "creative", "exciting" and "encouraging in 2017", and you'll be on the right track.)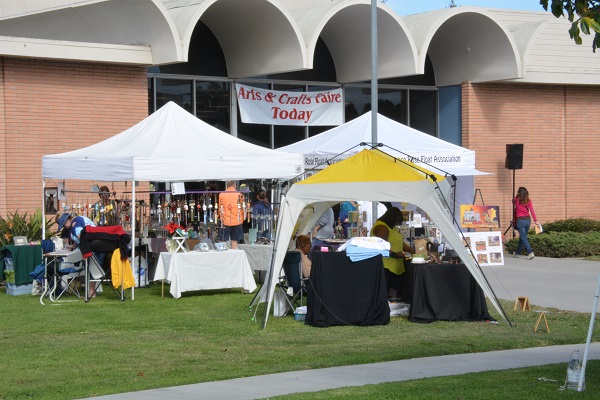 Congratulations to Torrance Craftsmen's Guild on another fun, almost-Thanksgiving craft faire with a festive atmosphere!  Their Christmas music, courtesy of DJ Ozzie, had us humming along, they were hosting a charity raffle and the whole event had a warm sense of community!  And if you're in Southern California and would like to see some of this firsthand, today's your chance.  Their 2016 "Annual Holiday Arts and Crafts Faire" is open for its second and final day, Sunday, November 20th at 9 am.
Torrance Craftsmen's Guild's 47th Annual Holiday Arts and Crafts Fair's second day happens Sunday, November 20th, from 9 am to 4 pm, at Torrance Cultural Arts Center.  Torrance Cultural Arts Center is located at 3330 Civic Center Drive, at Torrance and Madrona.  Admission and parking are free.