by Noella Noelophile®
Mr. Gatz came through like a rock star.
At his Long Beach premiere, as the Aquarium of the Pacific kicked off its ."Aquarium Holidays" at 10 on Saturday morning, the six-month-old penguin demonstrated no fear whatsoever of admiring strangers.
"Only rule is, nobody touch the penguin," directed an Aquarium volunteer as Gatz appeared in his first-ever  "Penguin Walk".  An adoring audience complied as Gatz started down the carpeted hallway.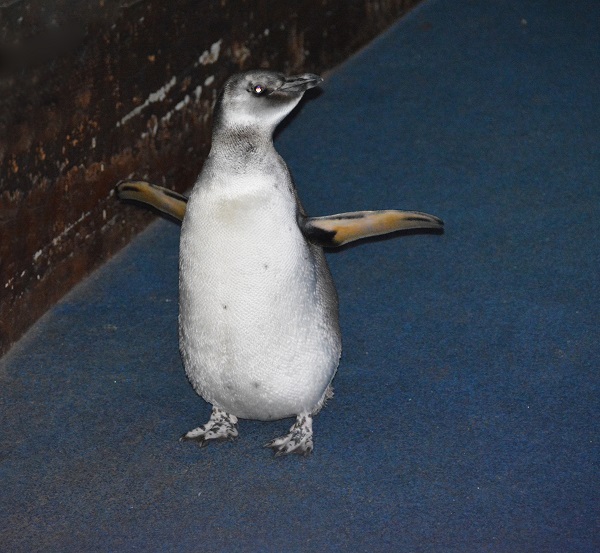 And Mr. Gatz, who is six months old and the tenth penguin chick to hatch at the Aquarium, enjoyed the spotlight.  Even the otters, trying to ham it up in the background as the curious penguin checked out the visitors, couldn't steal the show from him.
"Penguin walks" such as this one, will be a daily feature at the Aquarium of the Pacific from now through December 24th, in the Northern Pacific area.   And Sunday, December 3, is Day Two of the Aquarium's annual "Holiday Treats for the Animals" festival!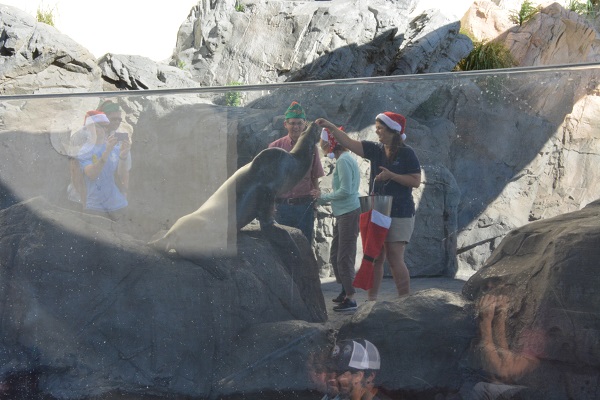 We had the pleasure of watching the Aquarium's seals and sea lions–three of each–get to join in the festivities.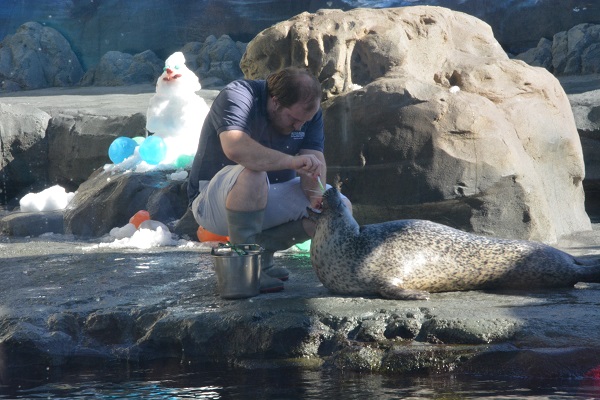 A favorite part of the program: watching Ellie, the harbor seal, get her teeth brushed!
Another  highlight came when "Harpo", the California sea lion, took part in a demonstration of the differences between his species, and seals.  He vocalized the sound a sea lion makes…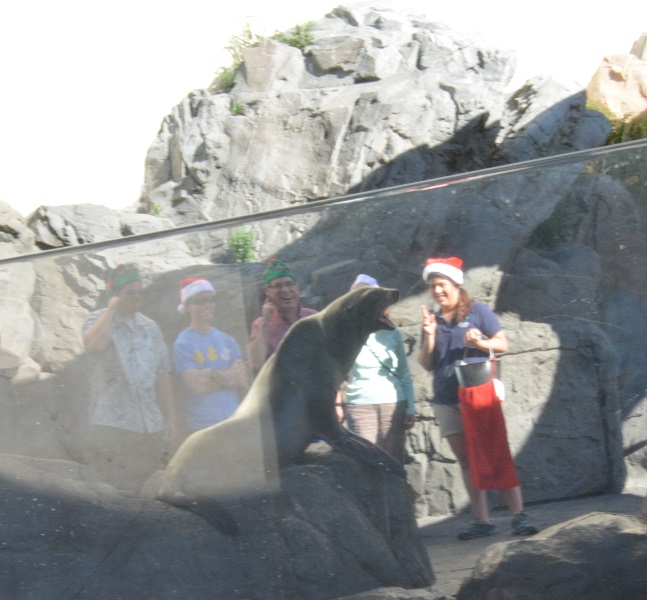 …and then a volunteer, identified as "Jimmy", put the mic to one of the harbor seals' mouths.  The audience laughed as they heard a sound like a soft "raspberry"!
"If you can hear a harbor seal do this, you're probably too close," Jimmy commented.
The sea lion and seal demonstration ended with a call to action.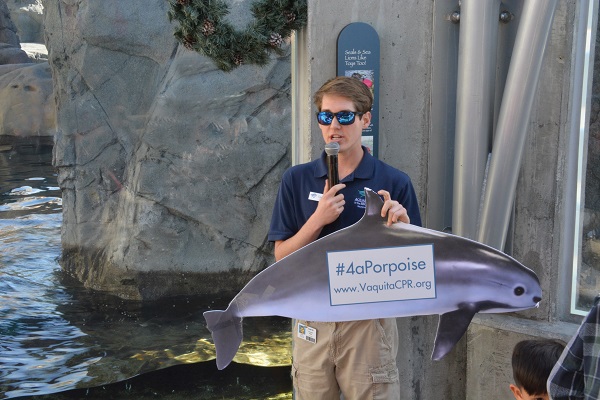 The vaquita porpoise, volunteer Cameron told the audience, currently is threatened with extinction.   Today, he said, scientists estimate that about 30 vaquita remain in the world.
At one time, Cameron continued, the Southern sea otter was similarly threatened.  Today, thanks to conservation efforts, their number has swelled from 50 to 3000.
"Share this information on social media (and get involved)," Cameron encouraged the audience.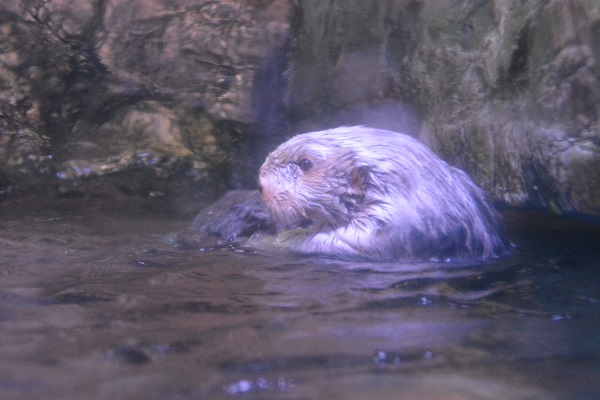 Later that afternoon, we had the opportunity to see the Aquarium's six sea otters in action,  as they enjoyed their holiday treats.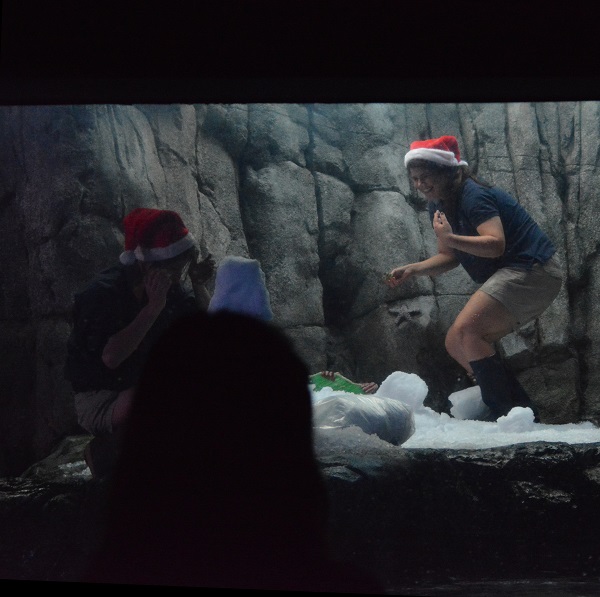 As volunteers prepared the area for their "Holiday Feeding Show",  Kenny, from  the Aquarium's Education Department, explained that otters love to eat.
"People eat three to five percent of their body weight (daily).  Otters eat about twenty-five percent (of their weight)," he said.
In fact, he continued, an otter can put away $30,000 worth of food in a year.  And he told the audience that the six Aquarium otters' diet consisted of  restaurant-quality seafood!
So, the day's specialties?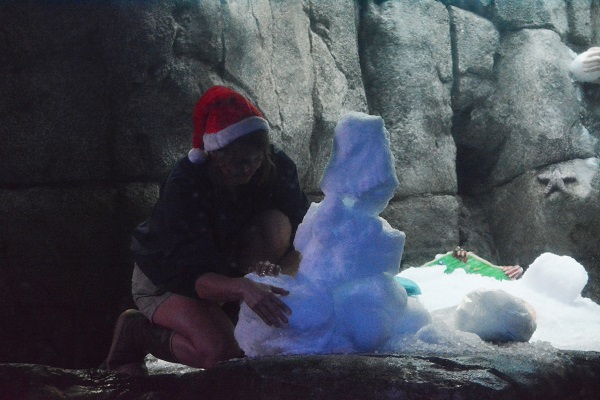 "We make clam and shrimp smoothies, and freeze them into all kinds of treats," Kenny said.
He also mentioned that the Aquarium of the Pacific has the largest volunteer program in the nation, with over 1,200 volunteers!
Three volunteers were adding both treats and toys to the area, and to a snowman they'd constructed.
"These are just dog toys, really.  They don't make things like sea otter toys," Kenny explained.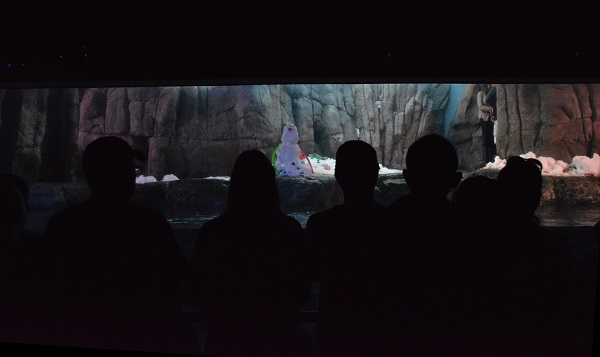 Before long, the area had been transformed into 'Christmas morning" for the animals.
The otters burst onto the scene, not unlike kids on December 25th.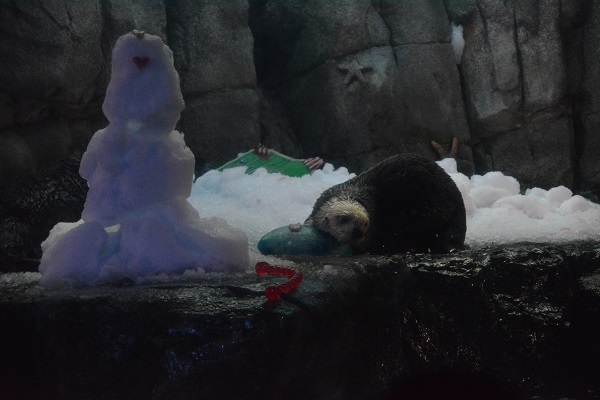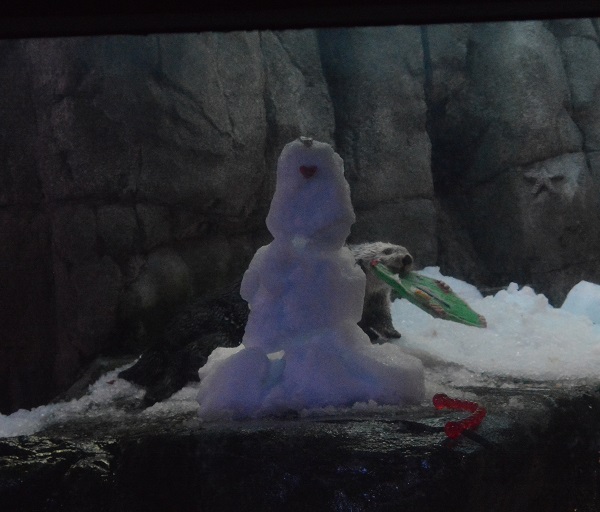 And yes, they did love to eat!   Very few treats were left when they finished, approximately ten minutes later.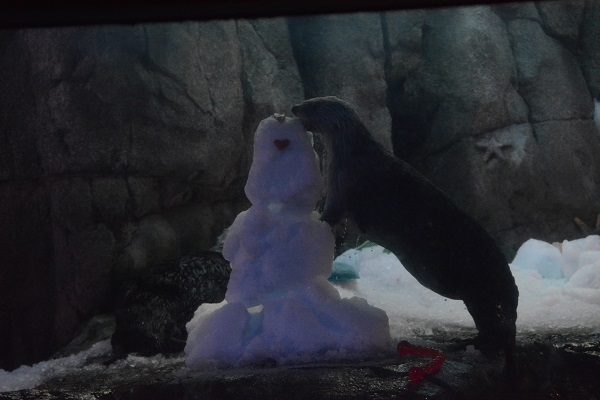 Another highlight of the day?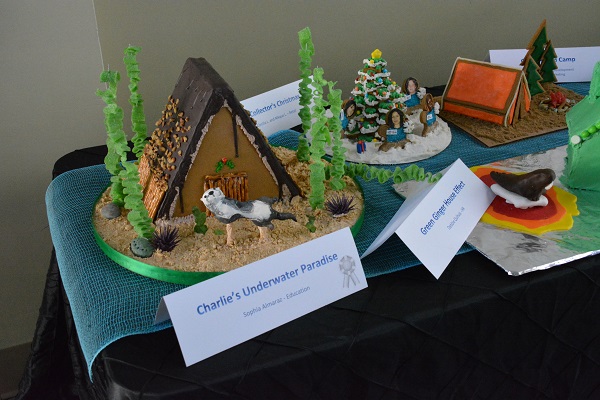 The gingerbread houses, which Aquarium staff members created.  The "Hairy Otter" one is a favorite for us, but choosing just one favorite is a challenge.   You may have a similar quandary when you visit; these will be on display through Christmas Eve.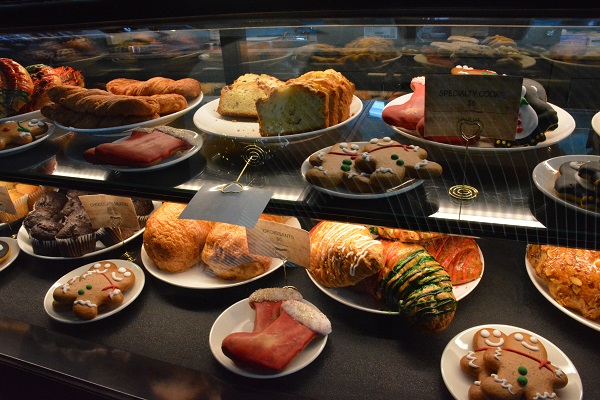 And both the Cafe Scuba and coffee shop had special "holiday treats" for land mammals. We'd love to be able tell Santa we stayed on the "nice" list, stuck to our diet, and virtuously nibbled lettuce leaves.
But, well…umm, ahem!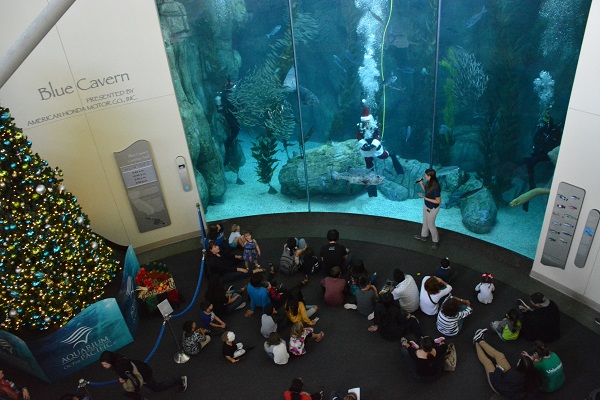 And of course, Santa was onsite–in his traditional "visit" role for photo opportunities, and as "Santa Diver"!
When we saw him in the latter capacity on Saturday, he educated the audience on the coral reef–and conservation.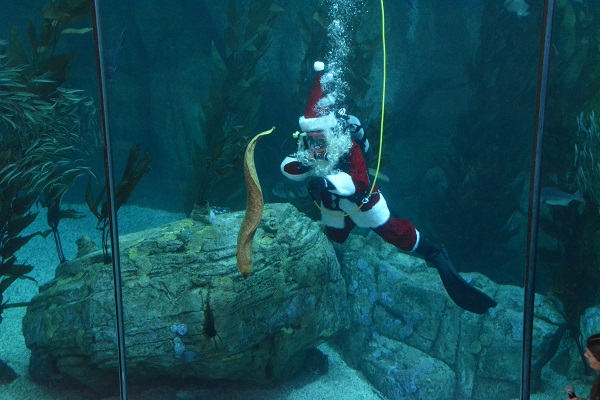 At one point, Santa Diver pointed out a California green moray eel in the Blue Cavern diving area.
"Movies (portray these as very fierce).  They're actually very gentle (and shy)," he said.
The afternoon also included a chance to meet "Kyle", the rainbow lorikeet.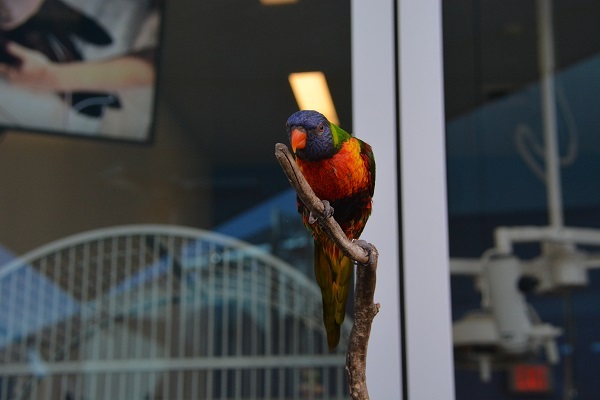 He's an ambassador animal, brought out for the 'Animal Meet and Greet" in the Molina Animal Care Center.
Believe it or not, because he comes from the tropical areas of Australia, his bright colors help him blend into his surroundings!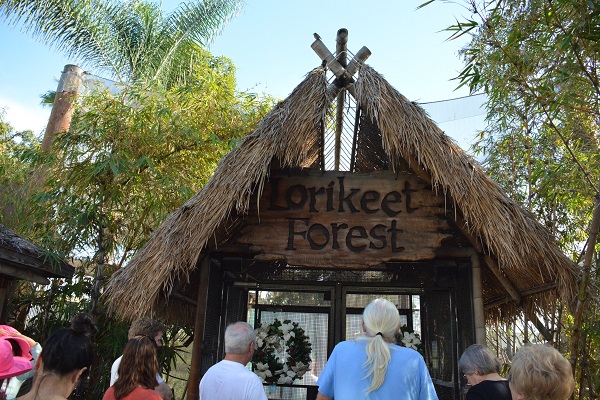 Of course, after seeing Kyle, we had to check out the Aquarium's  Lorikeet Forest, where approximately eighty lorikeets live.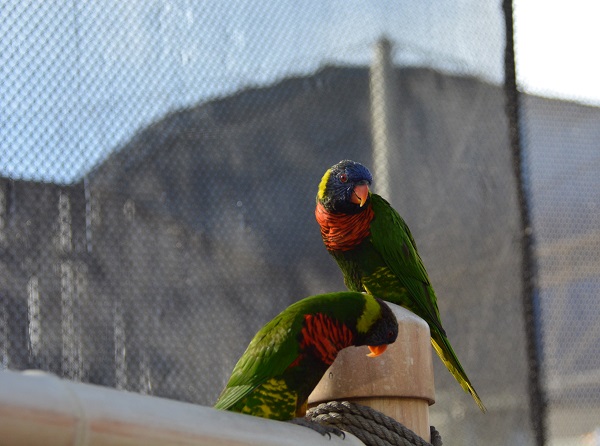 Visitors can buy cups of nectar to feed them, and the birds may very well light on you when you come in.  Again, the only rule: lorikeets may touch humans, but not vice versa.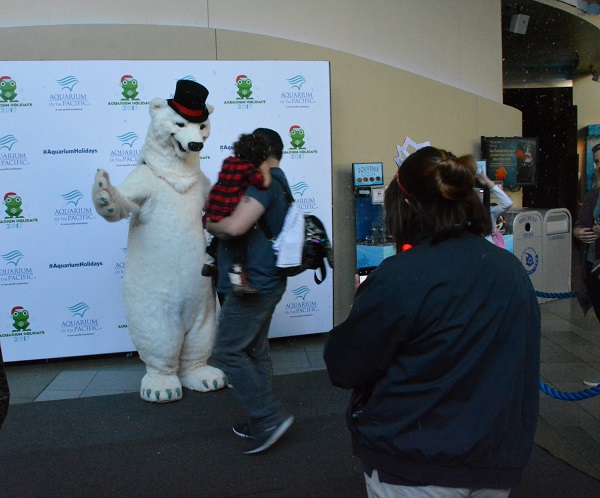 Did we mention that we saw a polar bear in a Dickensian top hat, too?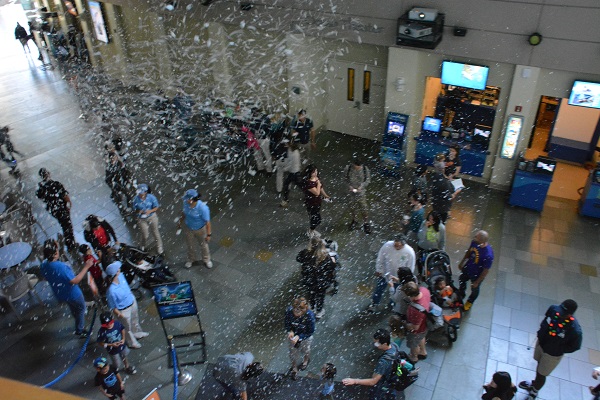 And, that it "snowed"?   (Photo opportunities with Aquarium "holiday creatures", as well as with Santa, were available throughout the day.)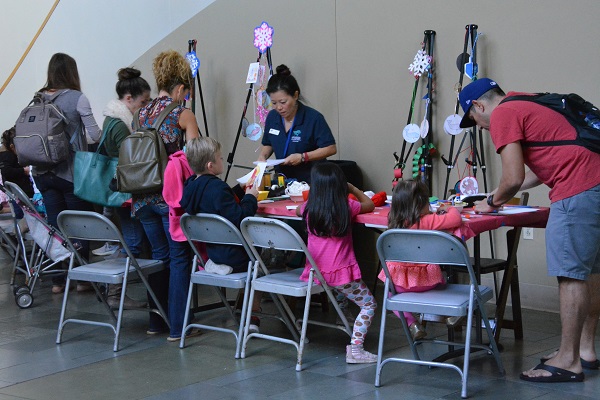 Crafts and storytelling, for Christmas and Hanukkah, were also part of the festivities.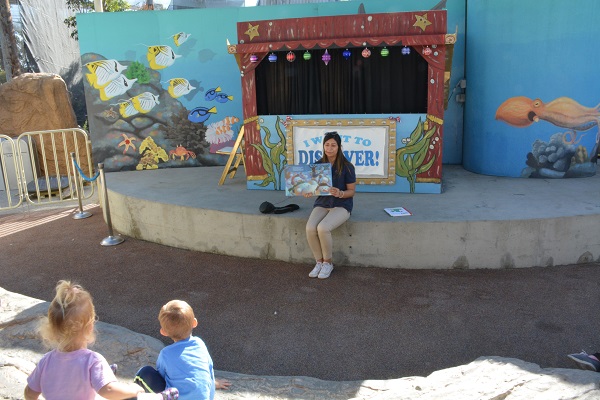 "I should have brought three books, instead of two!" a volunteer exclaimed, seeing her young audience's enthusiasm for her "Holiday Storytelling" session.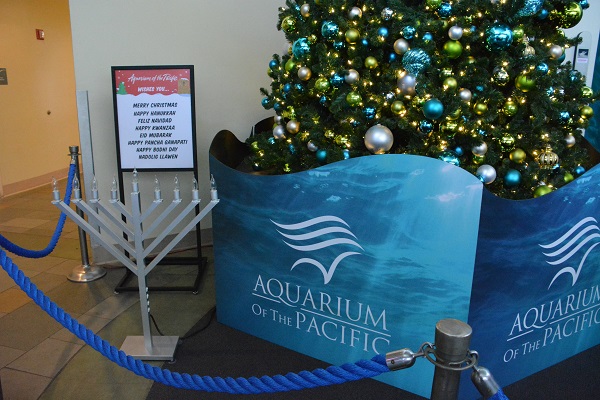 "Holiday Treats for the Animals" was a great, festive time at the Aquarium, as they celebrate an inclusive and multicultural holiday season.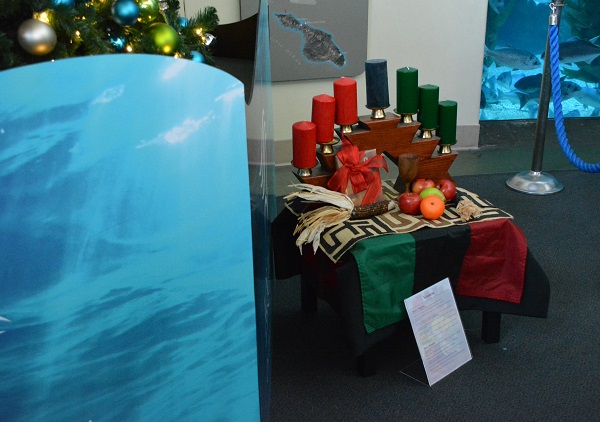 We particularly liked the display with the symbols and principles of Kwanzaa.
And while we were enjoying the festival, we certainly weren't going to miss the Aquarium's current "Frogs: Dazzling and Disappearing" exhibit.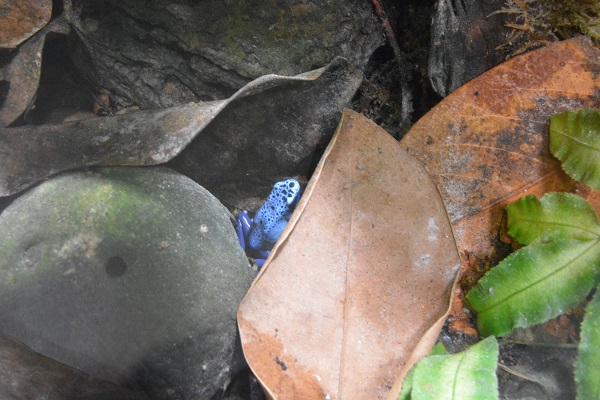 A blue frog?  Absolutely!  To be specific, this is a blue poison dart frog, from Brazil.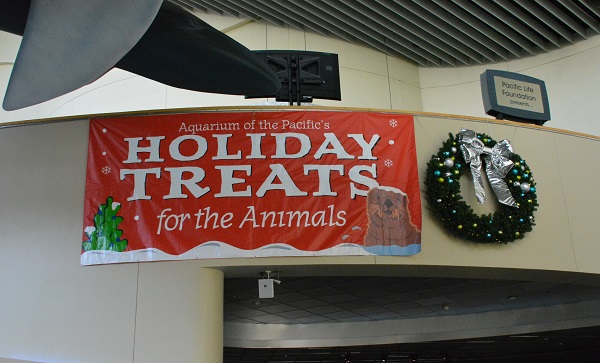 If you go to the Aquarium of the Pacific on Sunday, December 3rd, you'll get to experience Day Two of their "Holiday Treats for the Animals" festival.   This will be the final day of "Holiday Treats for the Animals" for 2017.
But, if you have other commitments this Sunday, "Aquarium Holidays" festivities continue through Sunday, December 24th.   You'll get to see a "penguin walk" daily at 10, take pictures with Aquarium holiday characters as it "snows" in the Great Hall, and check out the gingerbread houses.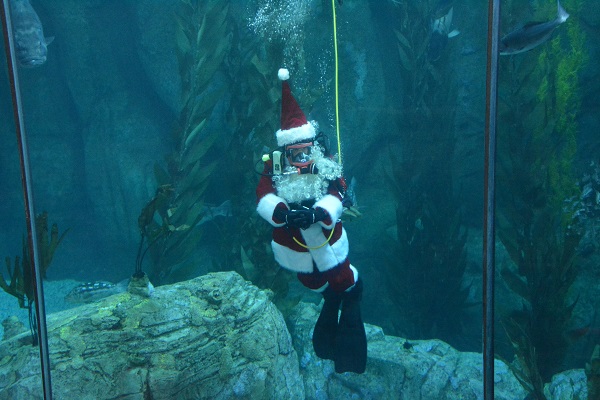 "Santa Diver" will be on hand at 1:30 pm on weekdays–and at 12:45 and 3:45 pm on weekends..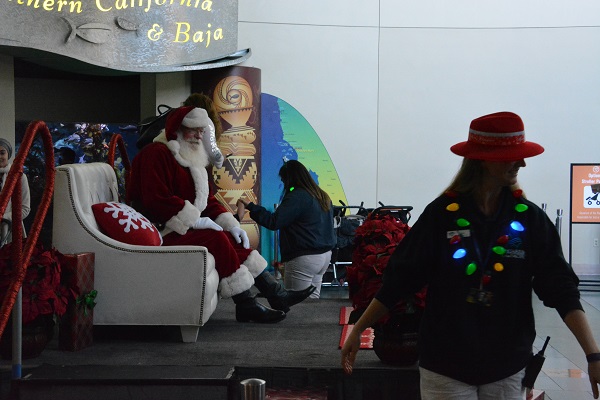 Also, on weekends from now through Christmas Eve, Santa returns for traditional visits and pictures.  Weekend activities at the Aquarium will included Christmas and Hanukkah crafts and storytelling, as well as real snow in the Aquarium's outdoor plaza area.
When you visit the Aquarium of the Pacific, from now through Christmas Eve, please consider bringing a new, unwrapped toy for the Long Beach Fire Department's "Spark of Love Toy Drive.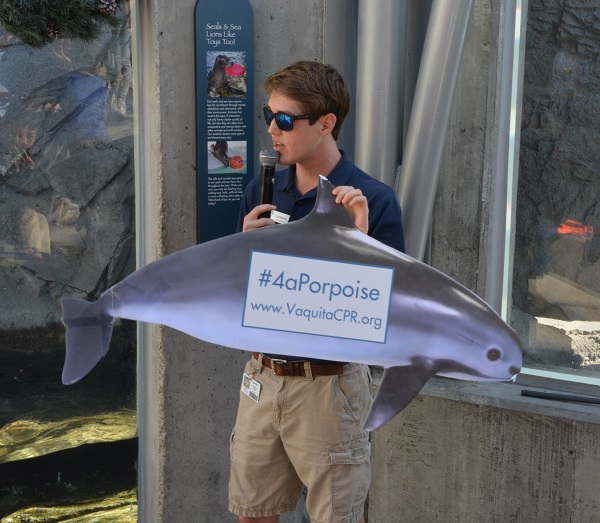 And–another Christmastime request?  Please take a minute to check out this link, and consider sharing it on your social media?  The Aquarium of the Pacific is working to prevent the vaquita, the world's smallest porpoise, from becoming extinct.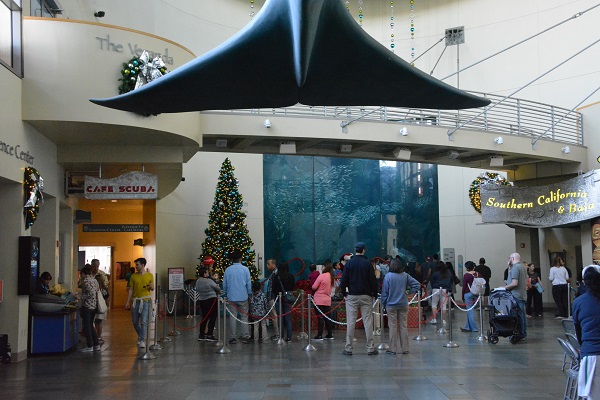 We've rarely heard a better Christmas–or Hanukkah, Kwanzaa or any other holiday–wish.
Day Two of the Aquarium of the Pacific's annual "Holiday Treats for the Animals" starts at 9 am on Sunday, December 3, 2017.  Then, "Aquarium Holidays" continue through Sunday, December 24th with special holiday programs.  The Aquarium is located at 100 Aquarium Way, southwest of West Shoreline Drive and near Golden Shore, in Long Beach.