by Noella Noelophile®
"That was a trip!"
"That was so cool!"
"That was fun!"
These were just three of the comments we heard, as CHILL at the Queen Mary opened for the 2017 Christmas season on Wednesday.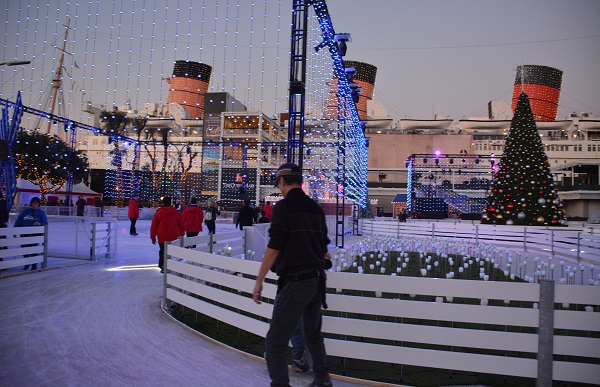 CHILL, which started as a Christmas attraction in Long Beach in 2012, is back in an exciting new incarnation.  It's now evolved into the United States' first-ever Ice Adventure Park!
And it's a 38,000-square-foot international adventure, with six different regions.  Each is a tribute to a different country.  The areas represent China, Holland, Russia, Germany, Switzerland, and the U.S.A..
After our arrival on Wednesday afternoon, one of our first photo opportunities was with "Sinterklaas", who hails from Switzerland.
Shortly thereafter, in the China region of the 38,000-square-foot park, a panda posed for us.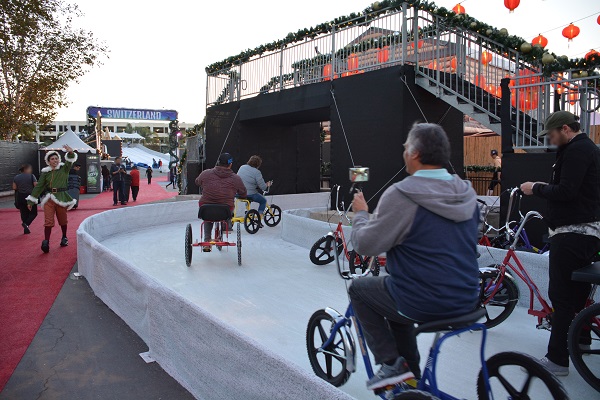 And these are the "ice tricycles" on the Shanghai Speedway.   Everyone wanted to ride those–and so did we!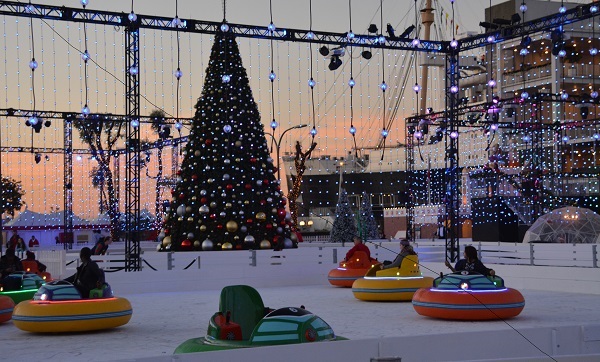 For the Holland region, we loved the "ice bumper boats".
Not long after arriving, we heard shrieks–then laughter.   These would fill the air on a regular basis….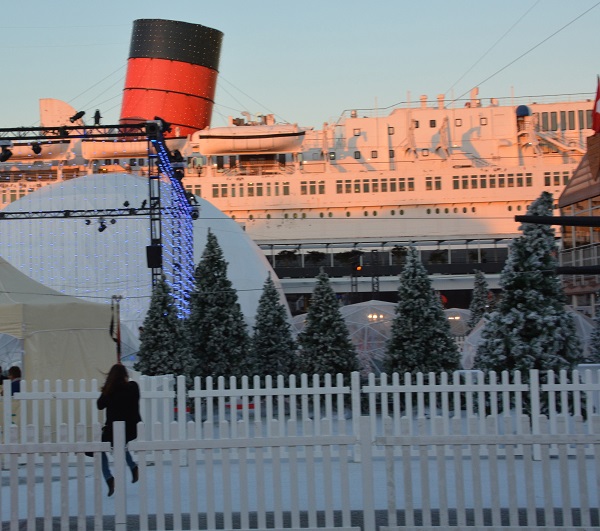 …as visitors tried out CHILL's new "North Pole Express Zip Line" in the U.S. area!
Another new addition?  While rink ice skating has been featured at CHILL in the past, there's a brand-new ice skating track.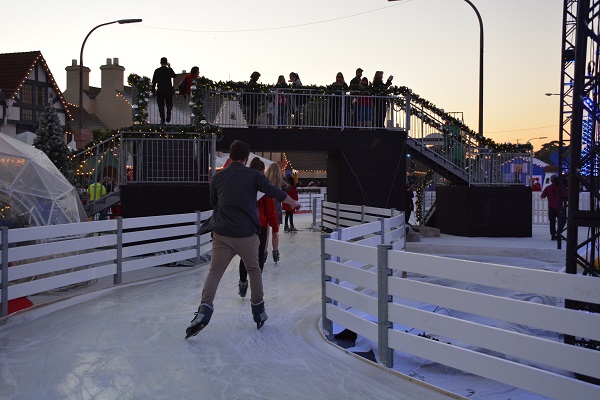 It takes skaters through the "Russia" area, as well as a pavilion with a "Northern Lights" show.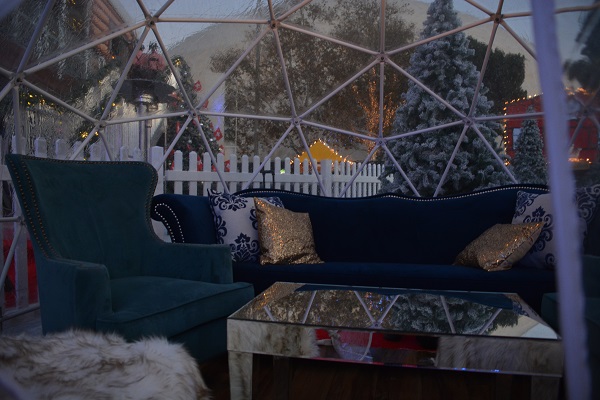 And these igloos looked very welcoming, for a break after skating!
Now, how imaginative is this?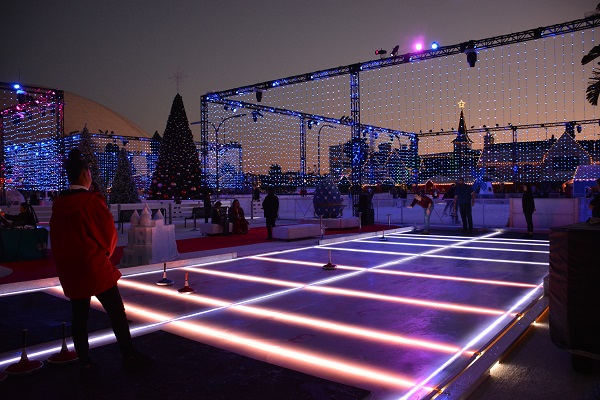 In the Russian region, visitors can play "ice shuffleboard"!
We also saw several re-imagined CHILL favorites.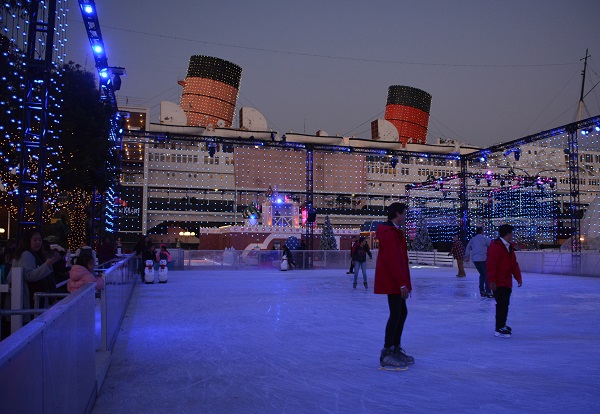 This year's CHILL featured a smaller ice-skating rink, in addition to the new ice-skating track.
Everyone loved the ice tubing at previous CHILLs.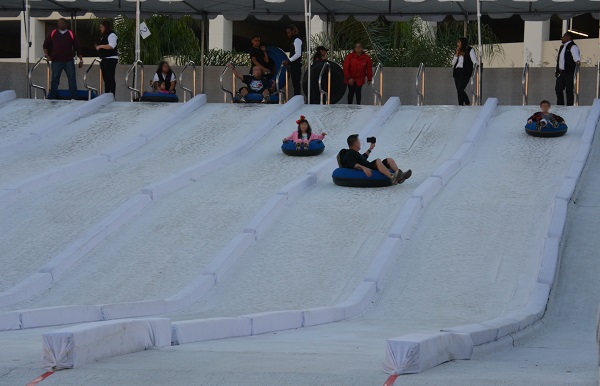 In the 2017 edition, laughter, spins and video "selfies" were the order of the day on the 140-foot-long "Matterhorn Mountain"  Ice Slide.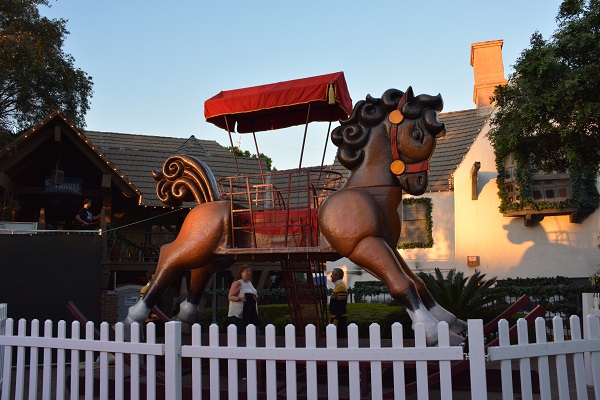 And this is the world's largest rocking horse!  (Yes, we did ride.  Purely in the interest of journalistic research of course.  And it was a blast!)
When CHILL made its first appearance in Long Beach during the 2012 Christmas season, it was modeled after Harbin's Ice and Snow Festival.   Its centerpiece was the ice sculptures, created by artisans from China.
CHILL 2017 does not feature ice sculptures on display.  However, it does have an "ice bar" (which our camera's fragile nature precluded our investigating).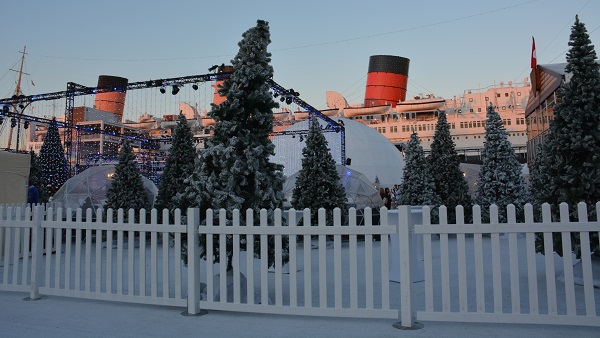 Although those previous ice sculptures were awe-inspiring, the newly-imagined version of CHILL is a fantastic idea.   People get to "do", rather than "look".  Think "date night" with someone special or "family outing" for Christmas.  Either one fits, and gives everyone plenty of activities.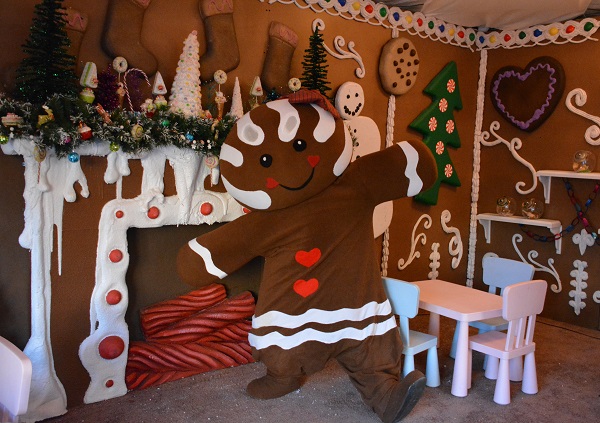 Crafts at CHILL have developed into something for us "big kids", as well as the small ones.
At this "gingerbread house" in the "Germany" area…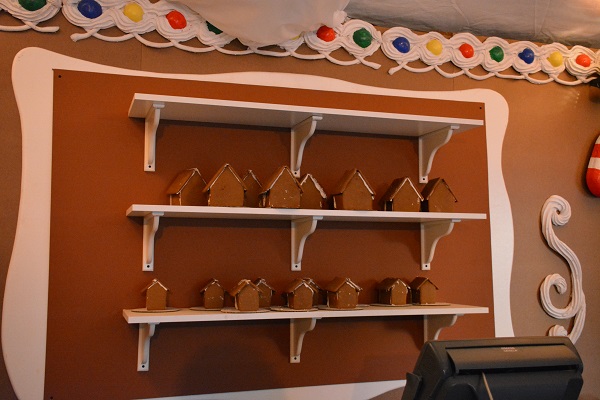 … guests could decorate a gingerbread house of their own.
Not far away, Mrs. Claus was reading stories to some small fans–and their parents.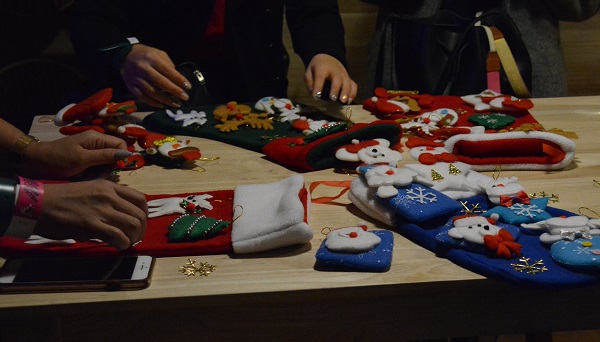 And a very popular craft we saw, in the "U.S." area, was at the "Stocking Stoppe".  Visitors choose trims and get to decorate their own Christmas stockings!
Then, after the sun set, the magic set in.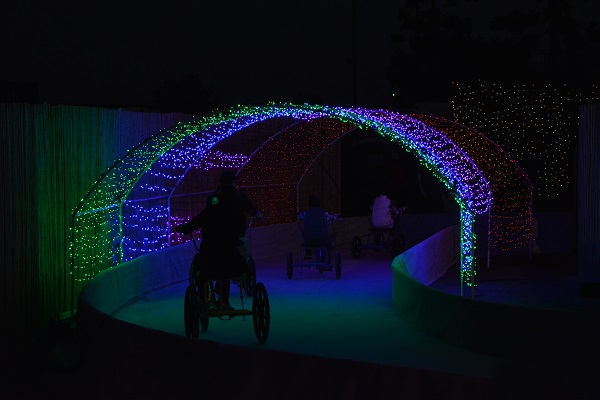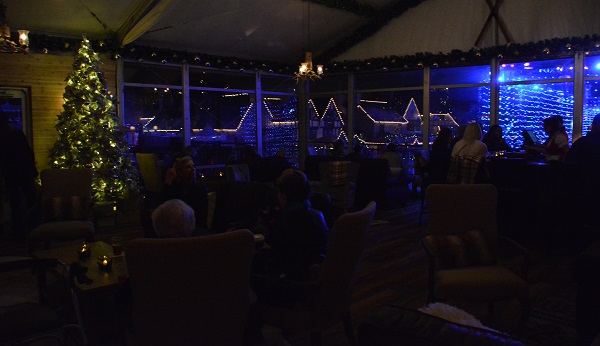 This log cabin is the "Alpine Lodge", constructed especially for CHILL's Switzerland area.   What a vantage point!
At 6:00, a breathtaking light show began.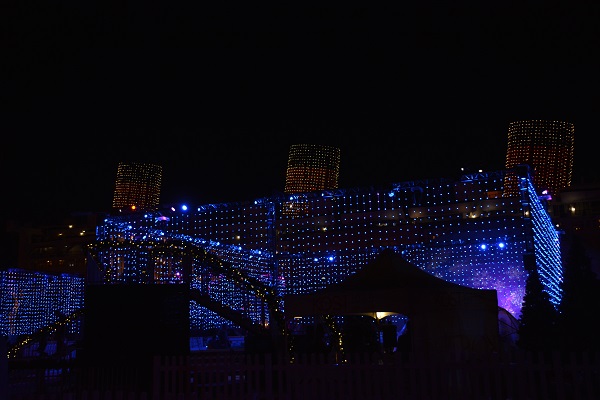 Uptempo Christmas songs played, the Queen's smokestacks sparkled and these lights changed color!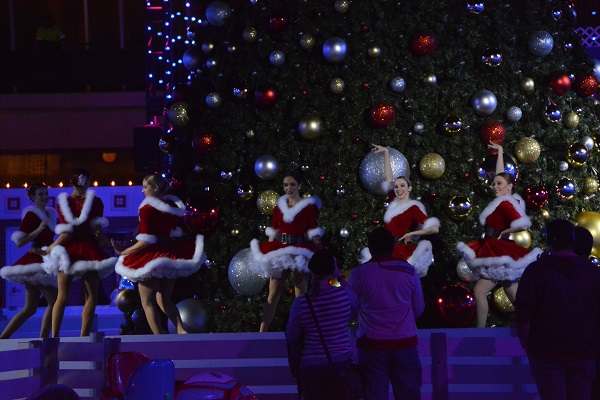 The first show of CHILL's 2017 Christmas season, featuring the World Famous Chillettes, took to the stage.  There would also be a Christmas tree lighting at 7:30 (and that's going to be happening nightly, at CHILL).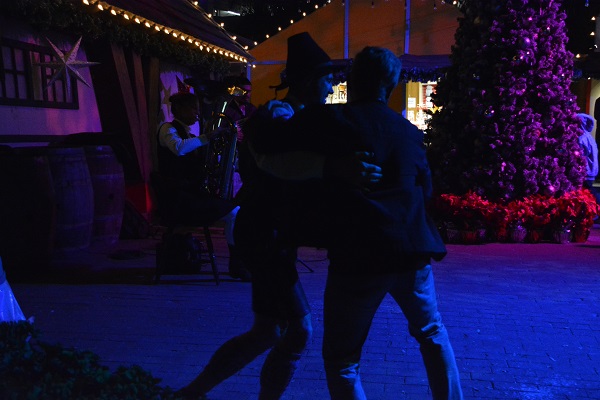 Later on, the German Village Players, an authentic band straight from Germany, were having fun, both playing and inviting members of their audience to dance!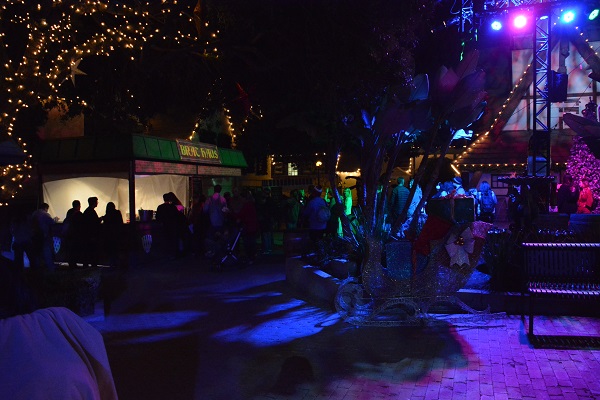 And no one appeared to be going hungry! Bavarian pretzels, Russian pierogi and some pretty incredible-looking artisanal chocolates were just three of the offerings on hand.
CHILL 2017 also has four international "holiday gift-bringers" making the rounds.  
Here is "Kristkindle",  in the German area.   (And you may very well encounter her and/or her three "colleagues" if you're hungry for waffles!  The international "Gift Bringers": Father Time, Sinterklaas, and China's Tea Hostess, join her in making appearances in the Holland area's "Windmill Waffle House".)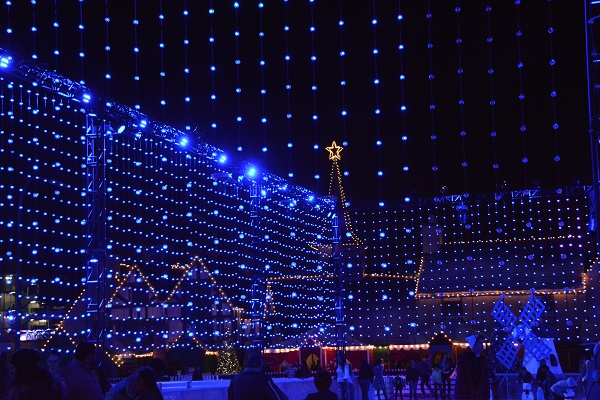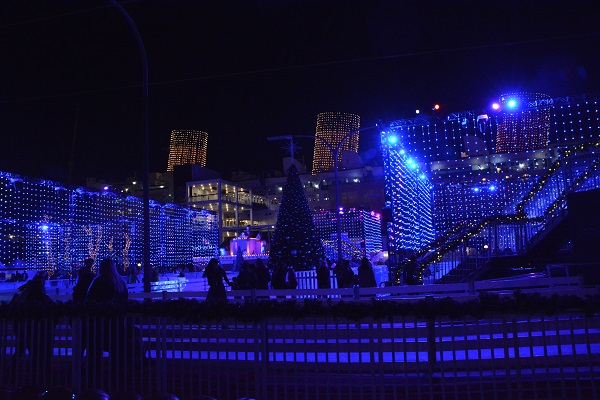 Congratulations to CHILL, on reinventing a great Southern California  Christmastime attraction, and making it even better!  We'll see you there, sometime between now and January 7th.
CHILL at the Queen Mary is open daily, from now through Sunday, January 7th, 2018.  Hours are from 4:30 pm to 11:00 pm.  Christmas tree lightings are scheduled nightly at 7:30, and fireworks displays happen on Sunday nights.  CHILL will be closed on New Year's Eve.  Here's the link for more information.