by Noella Noelophile®
How in the world did October get here so fast?
With shorter days, turning leaves, displays of pumpkins in the stores and even one store putting out evergreeens (yikes!), it's time to think of Christmas shopping.  But not the crowded-mall type; the kind that's actually fun.
Of course, I'm talking about indie artisans and getting to meet the people who crafted something special.  Here are several events for which you may want to mark your calendar (they're not that far away!).
Let's start with what's new this year.
NEW: Tamiza's Treats storefront: Grand Opening, October 27th.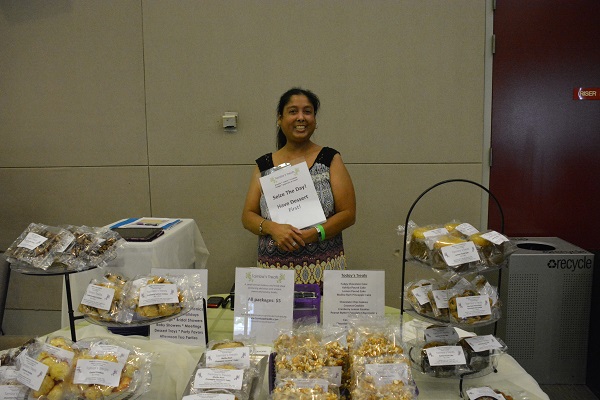 Remember the peanut-butter fudge, chocolate-chip cookies and various other "irresistibles" Mom or Grandma used to make?
So does professional pastry chef Tamiza Teja.
But the difference is, Mom or Grandma probably didn't create vegan, gluten-free or dairy-free specialties upon request.   Through her artisan bakery, Tamiza's Treats, Tamiza can provide all of the above.  She also creates gift baskets for any occasion.
"Yummmm" tends to be a conservative commentary on her handiwork.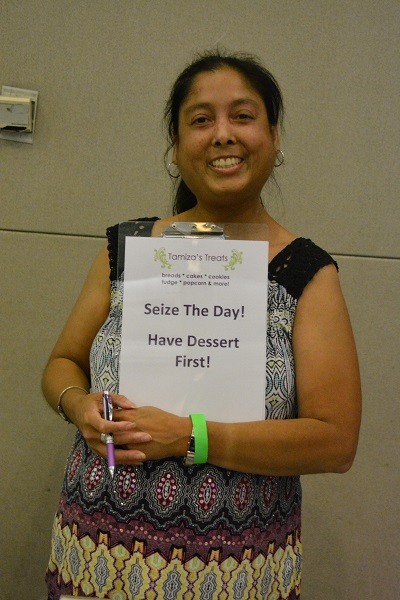 I've been buying her chocolate-chip cookies, fudge and popcorn for the past three years or so.  (Purely in the interest of investigative research, of course!)  Everything she makes has a tendency to disappear, very quickly
Now, Tamiza's planning "Tamiza's Treats and Artisan Boutique Grand Opening" at noon on Friday, October 27th–just in time to treat some of your favorite ghosts and goblins!  And if you're a total "foodie" who likes to cook, her new shop will offer food-related and kitchen items, created by high-quality artisans.
Grand opening festivities, Tamiza messaged, will be going on all weekend.   And if you're looking for a gift for a favorite "foodie", or something special for a party or other celebration, you might like to talk to her sooner, rather than later.  (She does take online orders.)
Tamiza's Treats Artisan Treats & Gift Boutique's Grand Opening happens Friday, October 27th, from noon to 7 pm,, at 3525 Pacific Coast Highway, Suite Q in the city of Torrance.  Admission is free.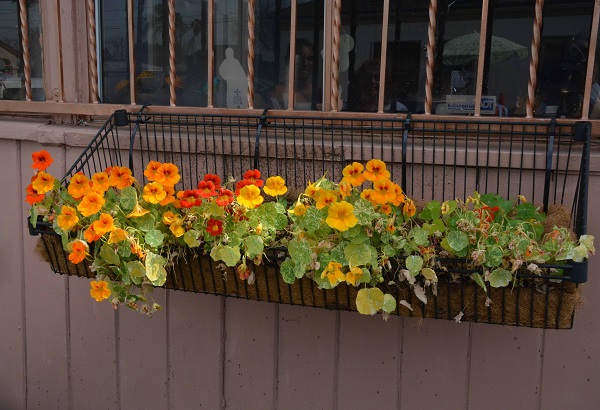 And since the weeks before Thanksgiving always seem to book up early, here's another new event you may want to put on your calendar: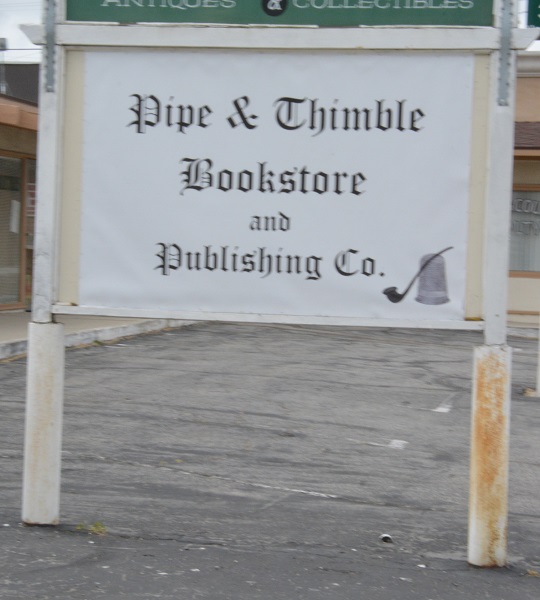 Pipe &Thimble Publishing and Bookstore Winter Wonderland Art Gallery, November 17th.

Southern California's first all-independent-authors bookstore opened this past May, as we mentioned in an earlier post.  Now, Pipe & Thimble proprietors Barb and Ellie Lieberman are about to celebrate their first Christmas season as bookstore/magical creative space owners.
Their "Winter Wonderland Art Gallery" will feature works by local artists and photographers.  Just a few they've already named: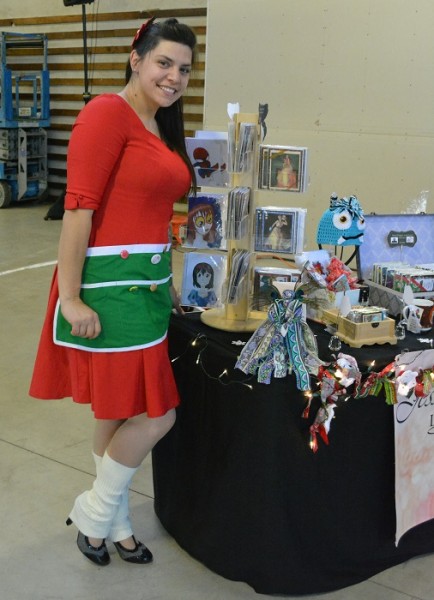 Jessica Silagy, gifted graphic artist (one of her Christmas cards is still part of our decor; it's too pretty to send!);
Robin Nieto, co-author of Tales From Mema's Garden; (Ask her if she's seen any butterflies lately, and she may just show you something breathtaking!);
Suzanne Gibson, of Suzanne's Studio; (I love her Halloween pumpkin and Santa paintings!);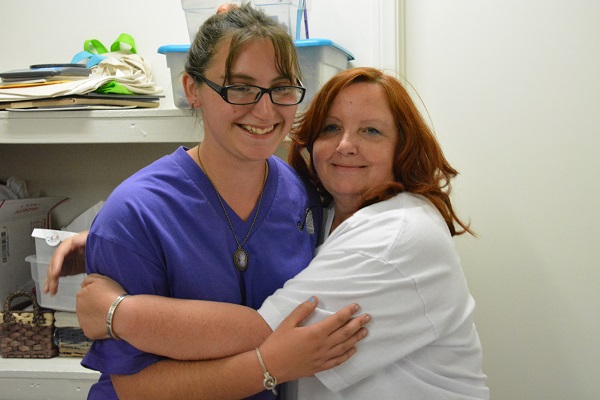 And, of course, Barb and Ellie, besides being talented authors, excel at creating–well, just about everything.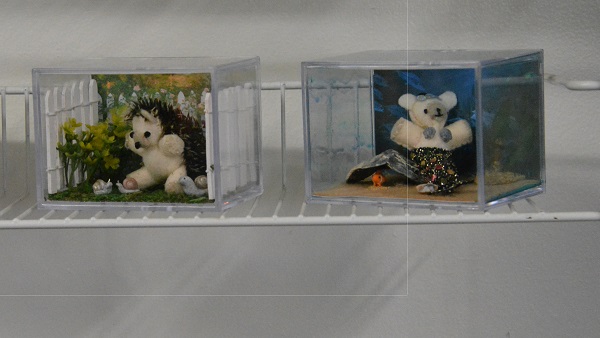 Here are a few of their "Pipe & Thimble Bears", which they made prior to their store opening.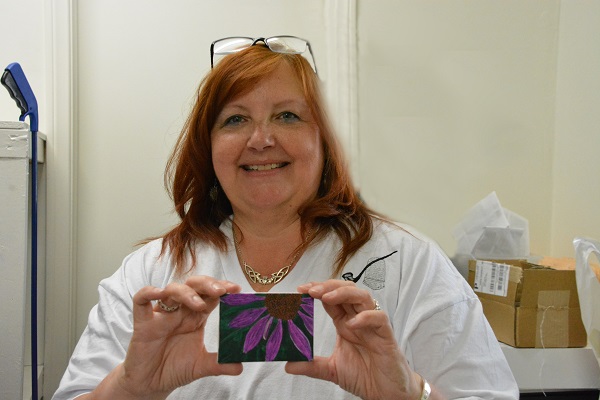 Couldn't resist falling in love with this cheery miniature painting Barb did, either.  Meanwhile, one of my personal favorites of theirs, for Christmas , is a set of two soft-sculpture fabric trees they crafted, through Barb's previous handcrafted business "Seeds 2 Inspire".  Originally, Barb and Ellie designed them as sachets, but given a resident feline whose breathing is more important than scented anything, we went with, simply, decorations.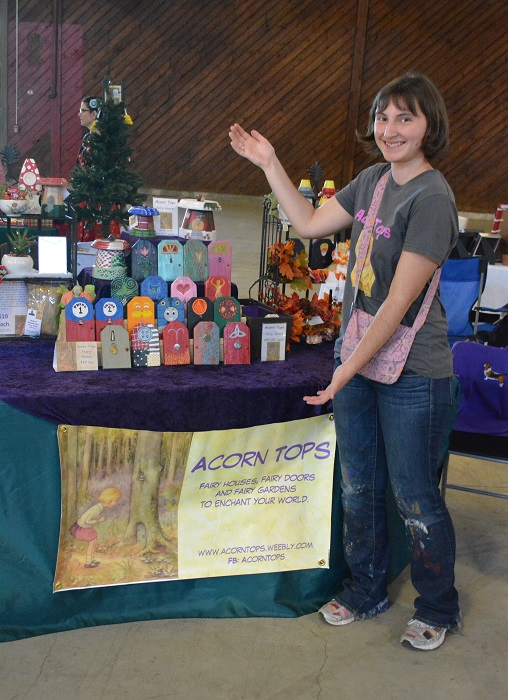 Want to see something enchanting?  Ellie creates fairy-world miniatures: doors, houses and just about anything else magical, through her handmade online  business, Acorn Tops!
(Also, if you love needlecrafting, don't forget to ask Barb about her needle-felting classes!  A recent favorite creation is her monarch butterfly.)
AND–we're not done yet.  More exhibiting artists are in the process of confirming!
Pipe & Thimble Publishing & Bookstore hosts their "Winter Wonderland Art Gallery" on Friday evening, November 17th, from 7:30 to 10 pm at their store location, 24830 Narbonne Avenue, near 250th Street, in the City of Lomita.  Admission is free.
Now, how come everything fun seems to happen all at the same time?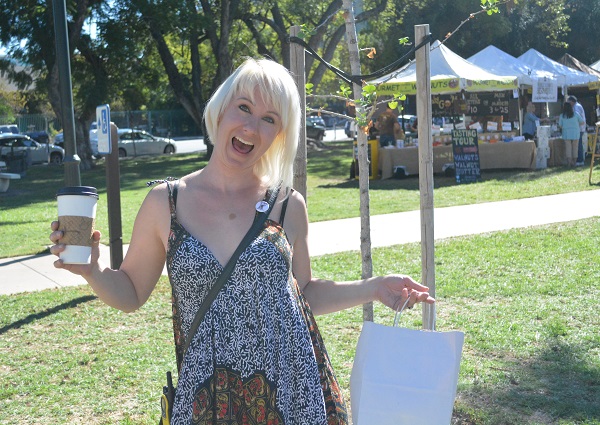 November 18th is going to be a "crafty" weekend, with Jackalope Arts making its Pasadena appearance that Saturday and Sunday, November 18th and 19th.  (Pictured is show co-founder Sara Diederich.  Notice the shopping bag–she couldn't resist all the cool gift stuff, either!)
This is an all-handmade, juried arts and crafts fair which I had the pleasure of exploring, after its Pasadena debut in 2015.  They had more than 200 artisans, along with a DIY booth and workshops.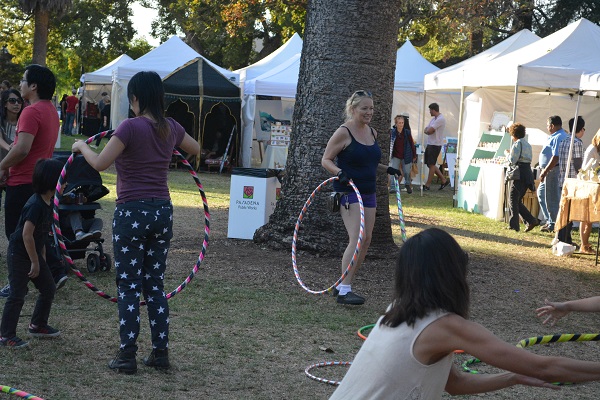 Complete favorites included the hula-hoop workshops with Jennifer Jensen of Eclectic Hoops, the kids' mask-making workshops by SPACE (South Pasadena Arts Center, and of course, all the cool creative "finds" that had me lugging home a shopping bag full of treasures.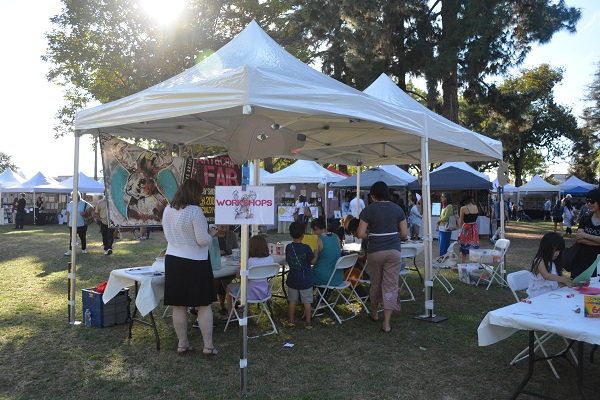 Sara mentioned, in an earlier interview, that she and her co-founders created Jackalope Arts as a way for the community to connect and actually have a conversation with the creative exhibitors, rather than simply buy product.  That's exactly what happened when I attended before: met some fantastic artists whose work is probably going to tempt me again this year!
Another plus?  Pasadena Jackalope Arts Fair now features glass-fusing demonstrations by Bullseye Glass Resource Center–and if you'd like to sharpen your own artistic skills, Pinot's Palette Pasadena offers $10 canvas-painting workshops, both days of the Jackalope Fair!
The Jackalope Indie Artisan Fair happens Saturday and Sunday, November 18th and 19th, in Pasadena's Central Park, 219 South Fair Oaks Avenue at Raymond.  Hours are 10 am to 4 pm, both days, and admission is free.