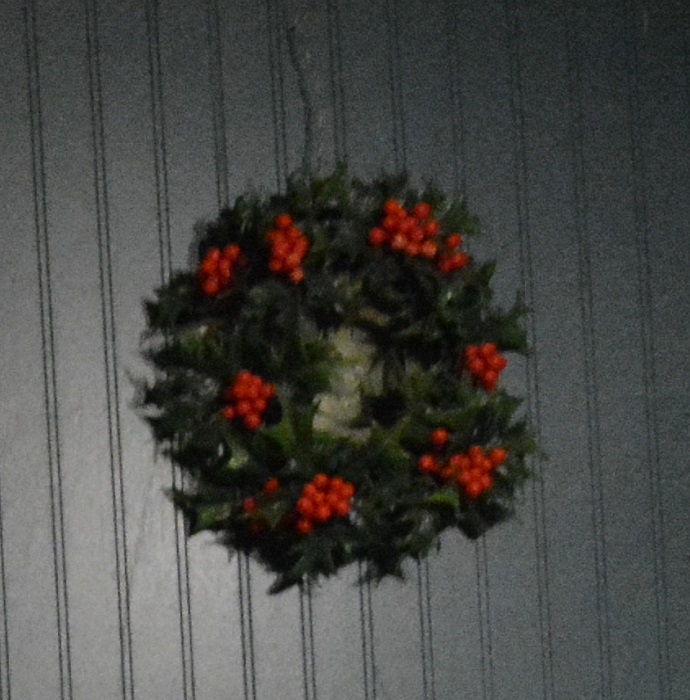 Looking for a book that'll put you in the Christmas spirit?
Here's my absolute favorite of a great Christmas trilogy: How Mrs. Claus Saved Christmas.
Author Jeff Guinn combines extensive knowledge of Christmas history, customs and folklore with an enchanting Christmas fantasy adventure.  This is the second book of his "Santa Claus" series, but like any good sequel, it catches the reader up on the action–even if you haven't yet read his first book, The Autobiography of St. Nicholas.
At the start of the book, St. Nicholas and his wife, Layla, are enjoying a movie and some candy-cane pie with their North Pole colleagues.   The movie is Cromwell, and when quiet Layla unexpectedly comments on the film's inaccuracies, the family-like group of associates (which includes King Arthur, Leonardo da Vinci and Attila the Hun) ask her if she knew Cromwell.  Layla then recounts a story they've never heard before, holding them all spellbound…
Layla begins her story with her experiences as an intelligent and unconventional woman born in Niobrara–now known asTurkey–in 377 A.D.  As a girl, Layla obtains scant education: the "wisdom" of her time holds that schooling is for boys,  Still, she proves to have an aptitude for sums, has a generous heart,  and dreams of traveling.  Once she reaches marriageable age, she refuses all her suitors, wanting more than the life of a farmer's wife.   Then, on a trip to Myra  with her Aunt Lodi and Uncle Silas, who are her guardians, she discovers the tomb of St. Nicholas, which casts a strange spell on her.
Inspired by the stories of the mysterious saint who gives gifts anonymously to the poor, Layla spends her inheritance on small gifts for local poor families. That effort culminates in a chance meeting with the saint, who is miraculously alive and immortal…and leads to Layla's ultimately becoming Mrs. Claus.  Like her husband, Layla gains the gift of immortality, and of being able to travel the world in compressed time, to deliver Christmas gifts.  But they're in for a challenge, as they live through the centuries together–in the 1600s, the Puritans, led by Oliver Cromwell, are determined to abolish Christmas.
As her husband travels to the New World to bring Christmas to the settlers, Layla stays in a turbulent England.   Desperate poverty, a weak king and a volatile religious climate all add fuel to a growing movement to ban Christmas in the kingdom.  As the Puritans' charismatic leader. Oliver Cromwell, grows In popularity, Layla fights the anti-Christmas furor as best she can, anonymously giving gifts and trying to have a rational discussion of the merits of Christmas with Cromwell as a guest in his home.  But Layla's efforts come to the attention of humorless "Blue" Richard Culmer,  one of Cromwell's henchmen, who issues orders for her arrest.   Meanwhile, Layla and others who love Christmas unite to take a stand…
A completely engrossing and intriguing story, weaving together historic facts about Christmas (who knew that Christmas was banned in Scotland in the sixteenth century–and that the ban would last until the 1950s?) with some great characters.  "Blue" Richard Culmer is a villain you'll love to hate, and Layla's adoptive niece, Sara, will leave you wanting to hug her–and maybe give her some Christmas books.  And the climactic scene is too good to ruin–let's just say that it may very well give you chills, as well as reminding you how blessed we are to live at a time when we may celebrate Christmas–or not–as our beliefs, not someone else's, dictate.
How Mrs. Claus Saved Christmas also has both historical AND  gastronomical "bonuses".  Jeff Guinn provides a bibliography, at the end, with more information about the historically-accurate events depicted in his book, including the Canterbury Christmas March.  And just prior to that is a recipe for candy-cane pie–a sweet "dessert" to a great read.