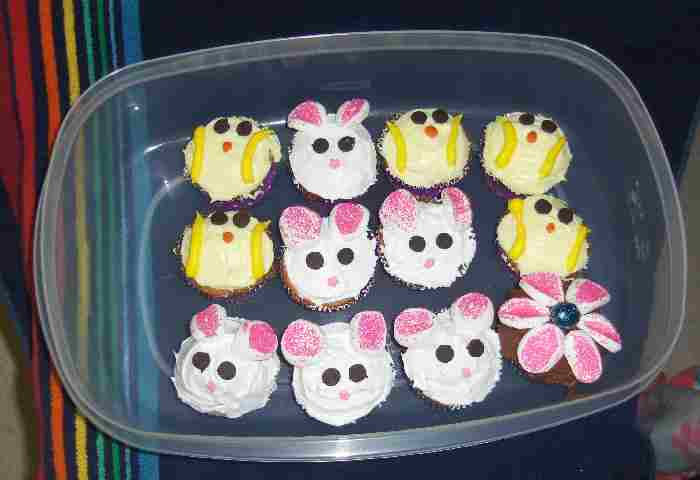 by Noella Noelophile™
"Ohhh, these just aren't turning out right!"
That was my thought, early this morning, while decorating these Easter cupcakes for a family get-together.
As you see, they're not gourmet specialties.  I'd seen the designs for them online, thought them extremely cute, and baked up a couple of boxes of cake mix.  Then, when the alarm clock rang at the un-Saturdayish hour of six this morning, the plan was to ice the cupcakes and decorate them as perfect, professional-looking bunnies, chicks and flowers.   Make them look like they belonged on a magazine cover, courtesy of a professional caterer?  Sure, no problem!
Uh-huh.
Opening the tubes of decorating icing, I discovered they called for–a pastry tip.  Yowww, of course I hadn't read far enough to pick one up at the store, and time was running out.  So, time to "freehand" the yellow wings on the Easter chicks.  And the orange beaks, that came out looking a little more like carrot noses on Christmas snowmen!
Then, there was nothing to use for the rabbits' whiskers–I'd decided against licorice, and the cake trims were too large to work.  With the ears askew, some of them began looking more like white mice.  Oops–some of the chocolate was getting on a few of the marshmallow flower petals, too.
In other words, nothing was turning out perfectly.
So, what did my favorite relatives say, when we showed up with four dozen not-so-perfect, but made-with-love, cupcakes–lemon, French vanilla, and chocolate?
"Yummmmm!  Those are cute!  Did you make them all?"
Perfectionism is an almost-subconscious way we sabotage ourselves.  In focusing on how much better I wanted these to look, I almost lost sight of the joy of getting to make something special and use my creativity (such as it is!) for the people I love.  And to realize how blessed we all are to have a family that enjoys celebrating Easter together.
The cupcakes were a hit, and we had a lot of fun.  And a very Happy Easter to you!  If it's not picture-perfect, may it still be full of laughter and love.