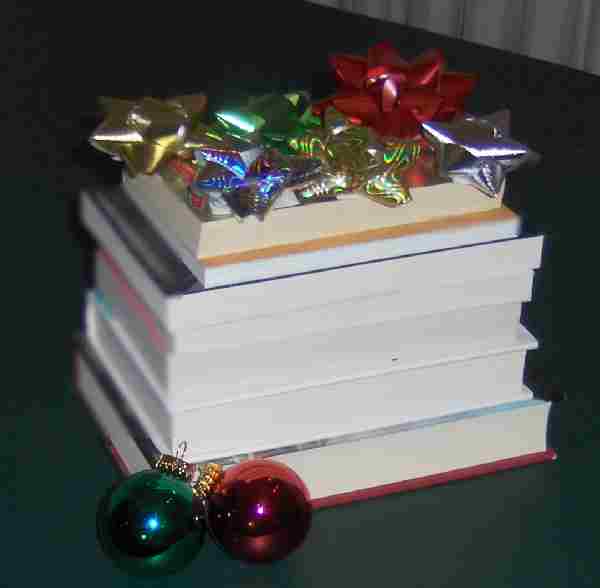 Here are synopses of three Christmas favorites for this year (and a synopsis will not do them justice!  You'll just have to read them.  Which is a little like saying, "Sorry, you'll just have to eat this piece of chocolate divinity fudge…").
"A Redbird Christmas" by Fannie Flagg
Oswald T. Campbell's life really isn't working–on any level.  And then–just to up the stakes–a doctor tells him there isn't going to be that more of it!
So, after getting his affairs in order, Oswald leaves wintry Chicago to spend his final days–so he believes–in the town of Lost River, Alabama.  He isn't prepared for what ensues, as the warmly eccentric community welcomes him into their daily life.
Finding himself belonging in a way he never has before, Oswald begins to blossom…and to join his new "family" in reaching out to an unwanted and abused child…with the help of a local celebrity, who happens to be a bird!
In the style of her previous books, including Fried Green Tomatoes at the Whistle Stop Cafe, Fannie Flagg again creates warmhearted, funny and believably human characters.   A Redbird Christmas will make you feel like you've just spent an afternoon on the docks of Lost River, catching up with all of them over a glass of sweet tea as several small Christmas miracles take place.
 
"The Christmas Pearl" by Dorothea Benton Frank
 I wish I had written THIS one!  Ninety-three-year-old family matriarch Ms. Theadora is dreading her upcoming family Christmas.   And with family members who might politely be described as "bratty", she has good reason to want at least one strong mint julep, just to get through their "celebration!"
Squabbling as they set up the Christmas tree are Barbara, Theadora's "doormat" grown daughter; her philandering son-in-law, her selfish, materialistic grandchildren, and dyslexic great-grandson Alex and bratty great-granddaughter Teddie.  They're obviously present only for the presents–and for whatever inheritance Ms. Theadora might leave them, in the future.
As she removes herself from the hubbub, Ms. Theadora yearns for the Christmases of her youth–when family servant/member Pearl kept the family on track to keep Christmases special.
Then, an unexpected turn of events changes everything–and ushers in the one person who can take everybody in hand…
This is a very enjoyable Christmas parable, with a surprise twist at the end–which I wouldn't dare spoil.  Who knows, Pearl could have a real-life counterpart–who'd come by and give me a stern talking-to!
"Wishin' and Hoping" by Wally Lamb
Remember whipped-wax candles. dime-store Nativity figures and honeycomb Christmas bells over the local lunch counter at the bus depot?  Wally Lamb captures them all, in his hilarious look at Christmas 1964 with the Funicello family.  And yes, they're that Funicello family–with a famous cousin, Annette.
But Annette gets only a walk-on here, as everyone has other, more important matters on their minds.  Ten-year-old protagonist Felix is looking forward to his upcoming appearance on a popular kids' television show.  His mother's counting down to her chance to showcase her prize recipe on national television, as a contestant in the Pillsbury Bake-Off.  And the arrival of a new student…and a new teacher…puts a different spin on Felix's school days, as his class prepares for their big Christmas pageant.
In all of the above, nothing goes exactly as planned–and the results are mildly irreverent, definitely unsentimental, and a lot of fun!   A not-too-nostalgic look at the way we were, complete with a know-it-all classmate you'll love to hate–and a reminder that, even at Christmas, "the good old days" weren't always Christmas-card perfect.