by Noella Noelophile®
OK, it's never polite to discuss a lady's age.  Particularly if she's royalty.
But, perhaps Her Majesty will forgive me, since this is Christmas, as well as her anniversary month.
The Queen Mary has now been in Long Beach for fifty years.   She arrived in Long Beach Harbor on December 9, 1967.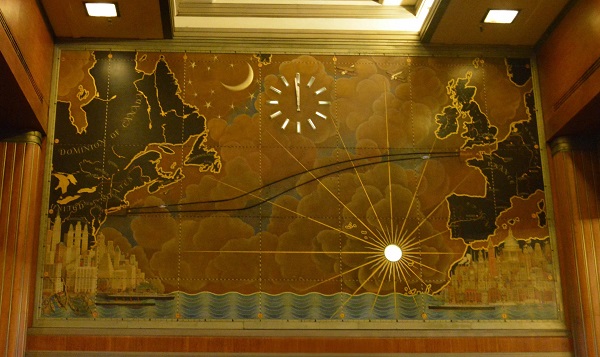 Exploring the interior is an incredible experience.  She's a one-of-a-kind art deco ship, and particularly festive for both Christmas and the upcoming New Year's Eve celebration in Long Beach.
And she not only looks amazing, but seems to love a party as well as anyone.
On Friday evening, December 13th, as CHILL at the Queen Mary opened for Christmas season 2017, the great ship pulsed with lights, in time to dance-tempo Christmas music.  If she had been able to smile, she gave the distinct impression that she might have.  (In a very stately way, of course.)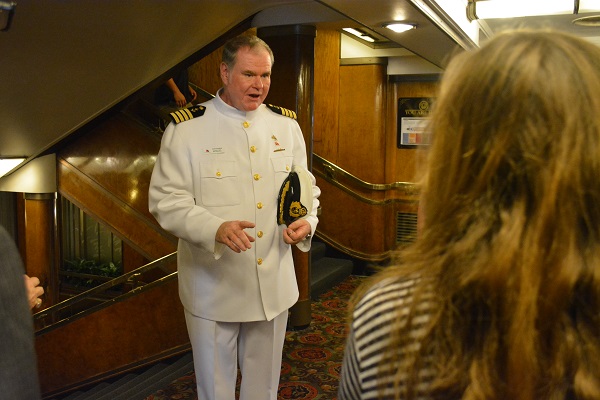 Perhaps no one knows the Queen Mary better than Commodore Everette Hoard.  He's now been working aboard the landmark ship for thirty-six of her fifty years in Long Beach.
And as we reported, during the Queen's 80th anniversary in 2016, he can make the stories of the Queen Mary come to life.   Commodore Hoard was kind enough to take the time for an interview as Long Beach celebrated the 80th anniversary of the Queen Mary's maiden voyage on May 27, 2016..
A year and a half later, visiting the Queen Mary to explore CHILL 2017 (which has had a fantastic makeover into the nation's first ice adventure amusement park), we had an unexpected treat.  We met Commodore Hoard as enjoyed the evening, and asked him for a Queen Mary-themed Christmas story.
Of course, we knew the Queen Mary was special–and magical.  But the story Commodore Hoard shared just provides one more reason why.
We'd hoped to publish the video here, but it was a little too large for the site.  So, here's the link.  Merry Christmas!
CHILL at the Queen Mary is open daily, from now through Sunday, January 7th, 2018.  Hours are from 4:30 pm to 11:00 pm.  Christmas tree lightings are scheduled nightly at 7:30, and fireworks displays happen on Sunday nights.  According to the Queen Mary's website, admission to the Queen is free after 5 pm.  Blackout dates are December 29th, 30th and 31st. CHILL will be closed on New Year's Eve.  Here's the link for more information.