by Noella Noelophile®
Christmas shopping where you get to have fun, meet talented artists and give back to the community?
That's exactly what Torrance Craftsmen's Guild would like to offer you, this weekend.

They'll be having their 48th Annual "Holiday Arts and Crafts Faire" this Saturday and Sunday, November 18th and 19th, as the Thanksgiving/Christmas season gets off to a start!
Expect to see more than eighty talented artisan vendors, with their unique work in four different areas.  Uptempo music will be filling the courtyard–and this year, you'll have a gourmet option for lunch.
Best of all, besides hosting an all-handmade show, Torrance Craftsmen's Guild, which has been serving crafters since 1970, is also serving the community.  In addition to their scholarship program, this year their "Holiday Arts and Crafts Faire" includes a toy donation drop for 1736 Family Crisis Center's Christmas store!   Here's the link if you'd like to know what they need most.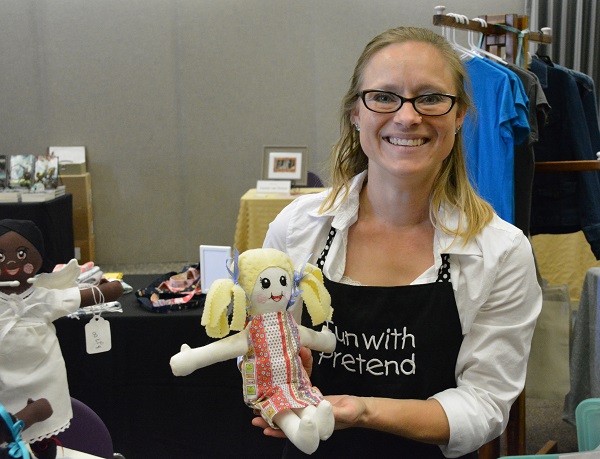 Krystina Kyle is the  President of Torrance Craftsmen's Guild–as well as the proprietor of a great handmade small business, Fun With Pretend.   Her duties as President have precluded her exhibiting her award-winning handcrafted dolls this year (I'm sorry!), but she's excited about all the other fantastic artists she gets to serve, as Torrance Craftsmen's Guild marks its 48th Annual Holiday Arts and Crafts Faire.
We talked about what's involved in this special event, what you can expect to see this weekend and how TCG's scholarship program is supporting the next generation of artists.
The Torrance Craftsmen's Guild's 48th Annual Arts and Crafts Faire happens Saturday and Sunday, November 18th and 19th, at Torrance Cultural Arts Center, 3330 Civic Center Drive, near Madrona Avenue and Torrance Boulevard.  Hours are 9 am to 4 pm, both days, and admission is free.