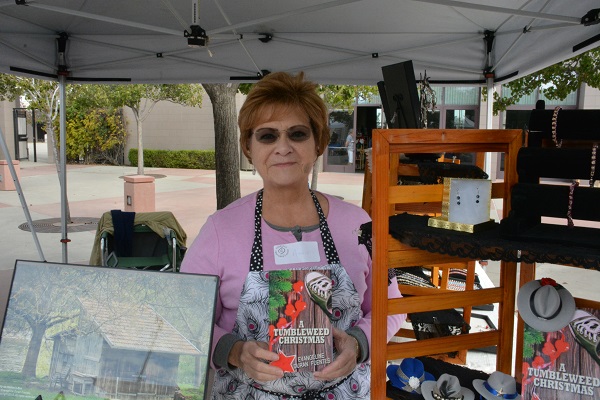 "Life isn't always what we think it is," says author Evangeline Duran Fuentes.  "Sometimes there's a change."
That change, and dealing with it at Christmastime, are at the core of her fourth published book (and her first published Christmas story!), A Tumbleweed Christmas. 
In addition to being a storyteller, Evangeline is an artist/entrepreneur, as well as a mom and grandmother.  And A Tumbleweed Christmas is based on a true story.
Some years ago, Evangeline and her family moved from Southern California to Texas, to help her ailing father-in-law run his small farm.   Her two young children had to make some major adjustments–and their first Christmas in their new home, is the foundation of A Tumbleweed Christmas.
As the story progresses, ten-year-old Matty and her older brother Mark learn to thrive in their new setting.  In the process, Matty leans a lot about love and growing up, as two strangers offer an unexpected gift.
With a poignant twist towards the end, A Tumbleweed Christmas is a bittersweet story of family, love and giving.  While written as a children's story, it shares a quality with Evangeline's three previous books: "big kids" will find themselves captivated–and won't forget Matty, Mark, Pedro or Esperanza.
Evangeline talked about the story behind A Tumbleweed Christmas, some of the creative choices she made while writing it, and some of her family's Christmas traditions.  (She also read a short selection from A Tumbleweed Christmas, in the course of our interview!)
(And congratulations to Evangeline on publishing her fifth children's book, Waggles, earlier this year!  You'll find all of her books on her website.  Meanwhile, if you're looking for some sparkly and unique Swarovski crystal jewelry, check out her small business,  Alluring By Design!)